So according the the news I wanted to start a topic about Unity game engine, that is going to charge a developer 0,20€ for each installation of a video game made in Unity, that occurs each time when you install it again even on the same machine.
I consider it an indie game publishers killer and expecting some games to be delisted from Steam platform or IndieGala freebies.
The changes will take effect starting January 1, 2024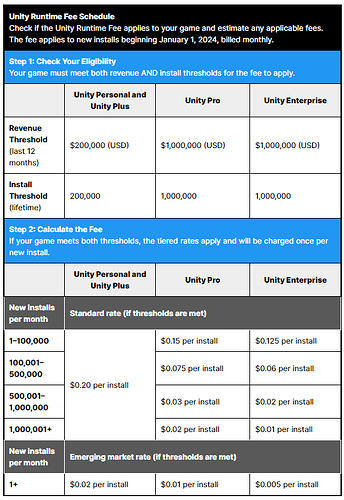 As I know, here on Chrono.gg there are not only PC gamers but also some programmers, who code some games for fun, so I wanted to create a topic about the upcomming changes to unity and maybe a list of delisted games.
There is a glitch in the system, someone can installl a bot that will constantly uninstall and install the game, so a bot may generate money for the engine. This really needs to be fixed ( changed), but however they edit it, it will still be a con to keep to unity. And even worse for the programmers who spend 5-10 years getting better at Unity.