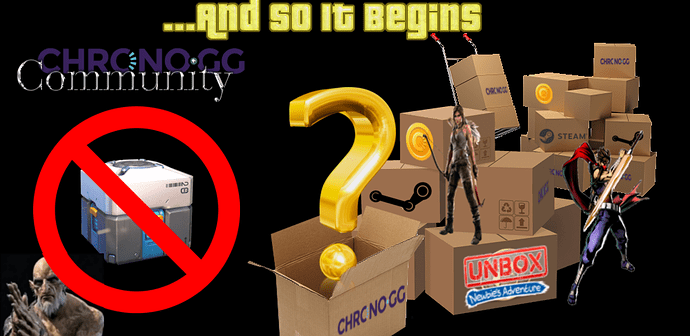 Okay, Chronies
Here we are, the first Non-Lootbox, Loot Giveaway.
The games that are up for grabs this week are:
A copy of Unbox: Newbie's Adventure

2 Copies of Tomb Raider

And a single copy of STRIDER

All we need from you to participate is to leave a comment below and 2 things. You to have at least completed the site TUTORIAL and you must have at least 400 Badges attached to your profile… and that's it. You're done.
Nah just kidding it is 4, 4 BADGES, yes 4, as in four but NOT for, that is just silly. Just testing you to see if you are reading the boring bits.
(if you are unsure of how to do that Tutorial, you can find out HERE and follow @Gnuffi's handy guide.)
Tutorial

Have 4 Chrono Badges (FOUR)

Leave a Comment Below
If the games this week are not to your liking or if you already have them, then we ask that you not to take part and give someone else from the community a chance to get them. There is always a chance you will find something next week that's more to your liking or don't already own, maybe even sooner, you'll just have to check regularly to see when. We have a LOT to gift and everyone will get their chance… so long as you enter.
Participants must have left a comment below by the time the new Chrono GG Daily Deal arrives on Monday, (5pm GMT/UTC/UK, I'm sure you know your respective time) then shortly thereafter the winners will be notified via Personal Message where they will have 24 hours to respond, to claim the game code for Steam. If you do not claim it, then a new name will be drawn and the above process will repeat. Sorry, we have to be strict on this.
As per usual, the draw will consist of a Random Number Generator because I lack the creative skills for something different. A number will be assigned to you from the post in sequential order.
I think that is everything, if not, you can ask questions of @Gnuffi, @delenn13 and they will help you more. Oh, I suppose there is me too, (not that one) @Punkster, so ask away, if I have not been clear on anything and I will respond as soon as I can.
EDIT: Yeah, I didn't have time to make a new image. Just means the bar is low for next time.
EDIT 2: The RE:EDITING: Erm yes, if you are entering it would be a great help if you say which games you are interested in, it would save a LOT of hassle later, thanks.