Hi everyone,
I am looking at the Steam Link site and it looks to be on sale at the moment. The deal will last until before Monday, so a lot of us has more or less one day to get this deal.

This is only applicable for folks who do not already own the 3 games associated with the bundles.
Of course you have to pay shipping, but it's pretty much a steal at this point. I just checked shipping costs, it's $8 here in the US, not sure about elsewhere.
Steam Link Page (Listing all 3 bundles)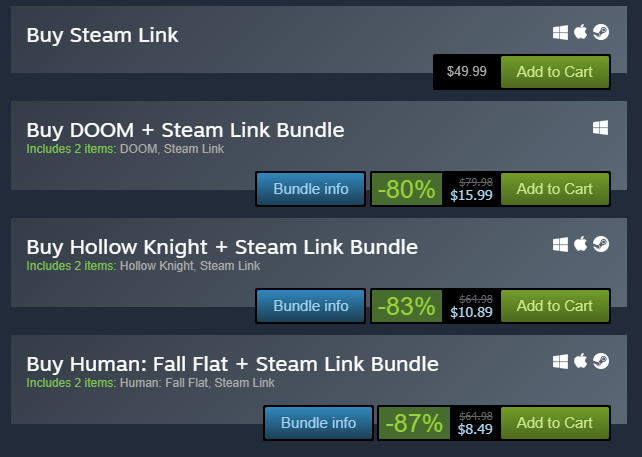 The bundle option is not available for the game that you already own.
Here are the individual links to the bundles:
Doom + Steam Link Bundle ($15.99/£10.79)
Hollow Knight + Steam Link Bundle ($10.89/£8.05)
Human Fall Flat + Steam Link Bundle ($8.49/£6.79)
@delenn13, I am sorry, this deal does not seem to be available in Canada…
EDIT:
This seems to be fairly regionally limited, so I am sorry if it is not available. Currently Canada and Australia are confirmed to not get the deals…
*sigh… I seem to be getting people's hopes up lately just to dash them, what a terrible person I am…