I've always found Origin to be a much smoother experience as a client than Steam…their storefront needs work though.
Congratulations Dead Space™ has been added to your Origin game library.
Isaac…make us whole again…
Twinkle, twinkle little star, How I wonder what you are, Up above the world so high, Like a diamond in the sky, When the blazing sun is gone, When the nothing shines upon, Then you show your little light, Twinkle, twinkle all the night, Then the traveler in the dark, Thanks you for your little spark, He could not see which way to go, If you did not twinkle so, When the blazing sun is gone, When the nothing shines upon, Though I know not what you are, Twinkle, twinkle little star
PS - This one is my favourite of the three in the series. If you've never played it I'd recommend that you remedy that sharpish…
i don't think Origin was "bad" as such, it's just annoying it "had to be there"
just another waste of disc space in order to launch a game
Origin currently taking up about 400mb of "precious" space, that's space wasted just to be able to launch a game -completely unnecessary imo
(and yea steam takes up way more, but in essence is equally unnecessary)
origin just made it worse by making itself "needlessly" unnecessary, it didn't have to be there, it offers/offered nothing, they opted to do nothing at all, when they could have tried to use it to tilt the digital market platform a bit away from steam, but essentially just ended up with another pointless drm taking wasting drive space for no reason other than not sharing the X% retail share with steam…
fcn dumbass wasted move -which i'm now paying for with wasted drive space because they decided to do nothing with their platform in the end, meaning no incentive to use it other than when "forced" by proprietary titles…
atleast GoG galaxy has some slight use in managing a drm free library for easier redownload while trying the "social angle" slightly too etc
-origin is just drm offering nothing but wasted bytes, and even ended up hassling their legacy titles bigtime that isn't bought direct on their platform now…
Personally I don't find the DRM of Origin to have any impact upon me, and understand it as a consumer (and obviously from EA's point of view why would they want to lose the massive cut Steam takes…may as well try an alternative option). I view these sorts of services as cloud management tools for my library, so don't really see how else they could accomplish it, whilst benefiting from gaining usage statistics and advertising their other games and services. And if 400MB is it's biggest flaw then it's doing something right!

My biggest gripe with Origin is that it's nigh on impossible to get DLC's for a decent price…at least they appear to be phasing out the Bioware points scheme…there's no way I'm paying more for Mass Effect 3 Citadel than I did for the main game.
yea, which is exactly why i haven't used origin for any purchase

their local pricings, not to mention dlc scheme just don't make it worth at all to me
it's even cheaper to get games retail + pay for delivery than buying on origin lol
ofc doesn't help with certain dlc's like the bioware pts -which kinda pissed me off because after they changed to origin and shut the social network i seemingly lost all my old pts and subsequent access to ME2 dlc


-fuck if i was to rebuy the dlc pack for that insane dlc bundle "offer", that didn't get discounted despite being decades old -costing almost 3x the price of the game now (which is ofc discounted because it's so very old)
so yea i'm grumpy about origin, not because it's bad as a client, but because it's just annoying af

I haven't actually, but I'm not to keen on horror anyway.
i won't lie, i might be a wuss,
but it had some real nice scary moments for me,
sorta game type'ish proper atmospheric tension spooky stuff
but was balanced well without being full bore horror for me with it's shooty stuff taking the edge off enough so i didn't get a complete heart attack
but it's overall "tone" is delightfully horror in a good way -and i usually don't do horror games anymore
for a sci fi monster shooter it's very nice and satisfying, -limbs everywhere


well worth a try if into that at least imo, even despite maybe not being all that much fan of spooks -it's good shooty bang bang lazoring

Watch a playthrough, that game relies on scare jumps for its horror, all of them prescripted, once you know what's gonna happen, is not as scary anymore, that's how I played it.
I have Dead Space 2 sitting in my Library on Steam, but never played it (you all know I'm terrible with horror). Should I play this one first, or just finally give Dead Space 2 a go some time?
If you care about the story, you should play the first one, DS2 story draws a lot from events in the first game, what with Issac being traumatized and such.
The good part about origin is that you can actually never install it until you decide to play something … the web page activation for free titles is pretty handy

The first is the best in my opinion, for pacing and scope it's more focused than the other two chapters. If you end up liking Dead Space, play the second one. I can't reccomend the third, I've never finished that one, it's the Resident Evil 6 of the Dead Space saga.
@WikiTora That's the perfect term for Dead Space 3… and just like RE6, I'm one of those absolute morons who will still talk about Dead Space 3 as a good co-op survival horror game. It's still very well made and has a lot of interesting things going on, it's just that they made a lot of dumb changes-- for example, the Mass Effect 2 style Universal Ammo can't be defended, and Cultist [human] enemies are just lame in general. It still has a lot of cool monster designs, some great environments, and a generally good sendoff for the series. All I can really say against it is that, aside from the over-streamlining I already mentioned, it has a lot of the Dead Space 2 action-film pacing that many fans of DS1 were annoyed by.
As for defending RE6, I'm just going to outsource that to a Youtuber…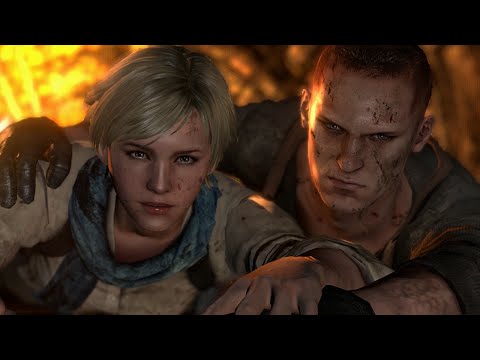 Yeah, I know, playing with a friend is always good fun, most things are even better when in couple, etc. The issue is, this isn't what I expect from RE or Dead Space, instead of a puzzle survival I get a co-op action shooter with QTE, basically "Focus Group: the videogame".
I gave up with RE6 early on, but I've played almost all of Resident Evil 5 with a friend. During the first chapter we were having fun, but near the end I was utterly bored. Taking cover in Resident Evil? What?! Finishing a chapter at the hardest difficulty and then being defeated by a co-op-QTE? Having more ammo than you'll ever need?! That's not what I want from RE.