Welcome to the Chrono's Animal Farm… For Chronies™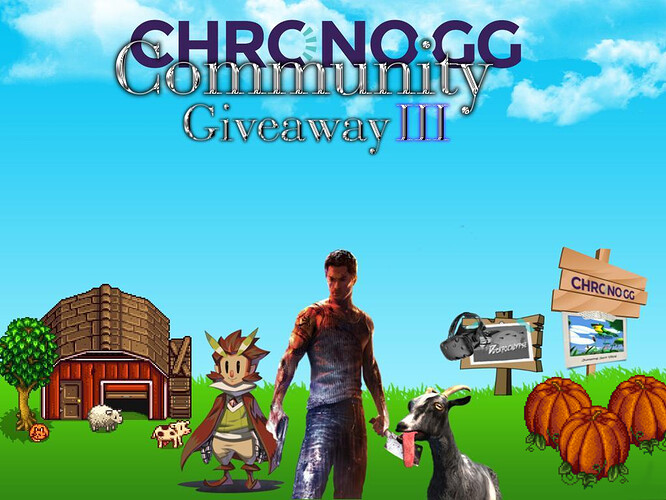 Yes, we went with an animal theme for the games this week, so what do we have for you? It is time once more for some Games to Giveaway.
First up we have TWO copies of Owlboy
For the FIRST time, we have two VR GAMES bundled together as one, both are as follows.
Duckpocalypse VR
VRog
We also have that classic in real life simulation with Goat Simulator
And erm, we… err… have… well, you see it does fit… 'ahem' …when you… erm… think about it and stretch the meaning… er… just a wee bit.
So We have:
Sleeping Dogs: Definitive Edition (Check if your country allows it)
And that is it for this week.
So, what hoops do you have to jump through this time? Well, I did have an idea but that needs planning, so what I think we should do is keep the "You must have at least 6 Badge rule" from last week and also the "You must have at least a 2 Week Active Membership on the Community forums," Rule. There is no real qualifying question for this time around though, sorry, so why not just share your favourite gaming moments below and you are in. (I promise, this will get more effort put into it for next time) Please also remember to state which games you would like to be in contention for. It saves a lot of hassle for later on.
6 (SIX) Badges.
2 (TWO) Week Active Community Membership.
Share Your Favourite Gaming Moments From Gaming History.
State Which Game/s You Wish To Enter For.
Mostly the same rules as before, submit your entries by the time the new Chrono Daily Deal on Monday 5th February 2018 and please leave which games you wish to be entered for, good luck. The winners will be decided by Discobot's RNG Die rolls shortly after closing. You must contact us after receiving your PM declaring that you are a winner within 24 hours of being notified. If you fail to reply, we will have to redo the draw for that game. Sorry, but we must be strict on this one.
NOTE: As some people keep failing to claim their games, we must be strict when asking you to respond to the PMs that we send out. You have a 24 Hour Window and we MUST stick to it. Sorry but it causes a lot of unnecessary hassle for us.
Additional Note: You can enter for all the games if you want? There is no limit for what you enter for, so if anyone reading this only mentioned one game because you thought that was the case then no, you can enter for each game if that is what you want. Either list the titles you are entering for or if you wish to enter for all start by saying… "I would like to enter for ALL games."
That is all, I look forward to reading your replies.
Oh, wait…
We do have another game for you but you probably won't be interested in it and that is:
Stardew Valley
Lol… Good Luck.

Chrono Community Giveaway Members Are: @delenn13, @PeteMcc, @Gnuffi, @HappyCabbage and myself. Contact any of us if you have any queries.