Introducing the ALL NEW Chrono Community Takeaway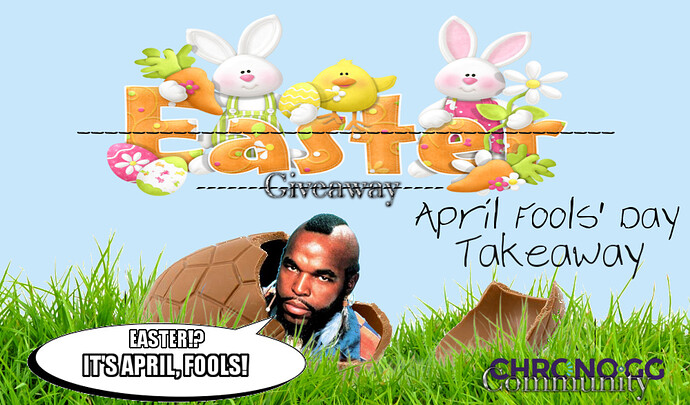 As you may be aware, we at the Chrono Community Giveaways HQ, have given out a fair few games, over the past few months, so now, you will be pleased to learn that it is your turn.
That's right…
Give Us Your Games!
What, did you think we did it all that for nothing? LMAO, what!? No. We want something back now, it is in your T&C's when you joined the Chrono Community, as I highlighted here: Chrono Terms & Conditions. So, do give us your games? NOW!?
All you have to do to enter this fast and exciting new service, is to leave a Steam Key below for any of the games we have listed that you want to donate to us and we'll take it off your hands, FREE of charge.
What do we do with them?
Well, as before we will sort through all the rubbish and keep the good ones for ourselves, what we don't want, will be placed in a future Chrono Community Giveaway draw. I mean, c'mon, where do you think we get all these keys from to begin with. We do this every year since Chrono's inception, 1999.
Here are the games we DEMAND from you:
Life Is Strange:
Limbo:

Road To Ballhalla:

Bad Dream - Coma:

Hiveswap Vol.1

Westerado: Double Barreled

The Important Stuff:
I'm sure by now you know this is just a giveaway and not us demanding anything. If you even believed that to begin with and if you did, WTH? What do you take us for? You don't have a very high opinion of us, do you? Jeez!
Oh well…
The ACTUAL Important Stuff:
So, as before, there are a few things required of you to do before you enter. First off you will need to have at least 6 Badges and be a member of the community for at least 2 weeks. We would also like for you to submit a story of your best April Fools' Day prank that has either been played upon yourself or you have played on some poor, unsuspecting victim. If that sounds like too much work, don't worry, you can post a meme or prank related video, (just not those awful Prank Invasion stuff). Thanks.
(Personal stories are preferred but if not, you can always submit something you know that caught people out, even if not tied to you personally. Maybe a meme or video related to April Fool's Day that you like?).
Once you do, please remember to state which games you wish to gift to us enter for, at the top of your post. You can enter for as many games as you wish. Just be respectful, please and give those who really want the games a much better chance to get them, if you do not. Thank you.
Just to be clear, share some tale that is April Fools related, a video, pranks or even lazy memes and so long as you qualify for the other criteria mentioned above, you are in the draw.
You have until the time the new Chrono Daily Deal on Monday 2nd April 2018, (5pm UK British Summer Time)
Good luck.
Quick Recap:
6 (six) Badges
2 (two) Weeks Active Community Member
1 (one) Story Relating to April Fools' Day (or a meme/video)
The winners will be decided by Discobot's RNG Die rolls and notified by the Key's Owner. You must contact us after receiving your PM declaring that you are a winner within 24 hours of being notified. If you fail to reply within the allotted time, we will have to redo the draw for that game. Sorry, but we must still, be REALLY strict on this.
Chrono Community Giveaway members are @delenn13, @PeteMcc, @Gnuffi, @HappyCabbage, @YQMaoski and myself. Any queries, feel free to ask.
EDIT: Post Anything APRIL FOOLS' DAY related.
What the Hell.
---
*Entry Window Extended Until 4th April 2018
This is to allow for more potential entrants after the holiday weekend.
Thanks.