The blog lied, it said May 1st and they aren't available. Or at least I don't see them.
Yeah, I've noticed the Twitch Prime games don't update immediately; they always take several hours at least, sometimes even a day or two.
No shareable keys this time around.

You'll have to link all games to your Prime account.
Yea would have been nice to share these ones, I either already have them or am not interested.
This is part of their new Start Freeloading promotion.

Complete list:

Bang Bang Racing

Gone Viral

The King of Fighters 2002

Pumped BMX Pro

Death Squared

The King of Fighters 2000

10 Second Ninja

Giana Sisters: Twisted Dreams

Metal Slug 2

The Crow's Eye

Manual Samuel

Metal Unit

Hue

Fatal Fury Special

Serial Cleaner

Samurai Showdown II

The Metronomicon: Slay the Dance Floor

8Doors: Arum's Afterlife Adventure

Rain World

The Darkside Detective

The Darkside Detective

Clouds & Sheep 2

*Road Trip* (Legacy Games code)

*Addling Adventures* (Legacy Games code)


Games with keys are mentioned in italics. Others, however, are available DRM free on the Amazon Games app.
Get excited for the following games on Prime Day (July 12-13):

Need for Speed Heat

GRID Legends (*thank god I decided to wait for this lmao*)

Mass Effect Legendary Edition

Star Wars Jedi Knight: Jedi Academy

Star Ward Jedi Knight II: Jedi Outcast

Star Wars Republic Commando.


These titles (At least Mass Effect Legendary Edition, GRID Legends, and NFS Heat) should have keys, however.
From:
I REALLY hope I can get a trial around July, haven't had one in years. Paid for it a few times since. I wanna drop that ME:L as a gift to my sister…finally get her to experience one of the best RPGs!

If you don't happen to get it let me know and you can have mine, already have it on Steam so no need for it

Thank you! I certainly will! Hopefully they just give me the trial, because I have been a VERY loyal customer since 2009. lmao
Maniac Mansion? That's cute.
The Prime day games are available now. Unfortunately, there not codes. You have to link your EA account to claim them. You only have until tomorrow to claim them too.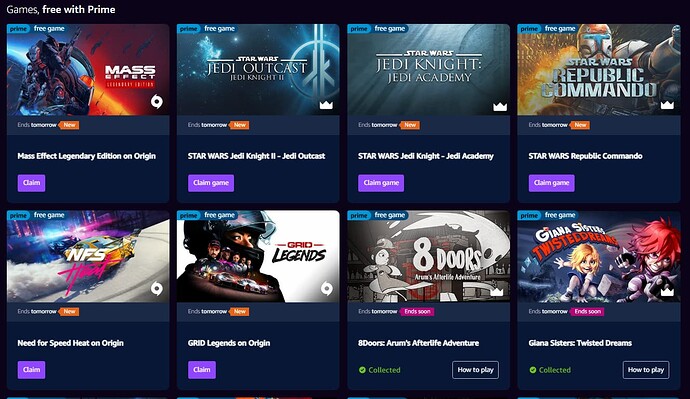 Praying that one day we will be able to move these over to our Steam accounts like we could with Bethesda.

much disappointment

Yep. Looks like they've "closed the flood" of keys in order to contain grey market websites and freeloaders, which's a pity, since I wanted keys for both Mass Effect and Grid Legends.

Oh well. Looks like I'll have to wait for a sale like everyone else.