It's been a rough week. If any one wants to do a giveaway…Go ahead. It won't faze me at all. I just NEEDED to do this. Please don't let me stop you from having a giveaway too.
I grabbed 3 bundles of the first tier in the last 20 mins of Humble's Asmodee Digital Play with Friends to giveaway. I know this will help @Fraggles to add to his players on his "Game Nights".
So I got 3 Bundles for 3 lucky Chronies. I will send you the URL that Humble sent me as a GIFT! You get ALL these games :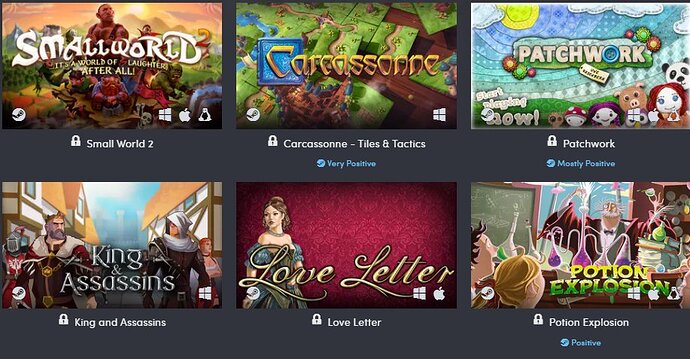 Rules:
Must be a forum member for 2 weeks.
Earned 8 badges.
Answer this question: Has the cronovirus affected your gaming? Are you playing more and are you playing different games than you usually do?
Ends May 28th 2020 around noon EST(The same time the Daily Deal changes.)
I reserve the right to change the rules…etc…It's MY giveaway



EDIT: I knew I would forget stuff.
I will choose the winners with Discobot's help.
Also, you will get separate keys for each game so if you already have it or don't think you will play it, please consider just passing it on to another Chronie who would appreciate it. No trading or selling, PLEASE!!!