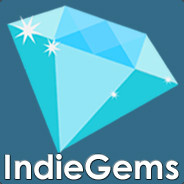 As a lot of my Steam friends know (and almost all of my Steam friends are fellow Chronies), we are trying our best to keep a fresh stream of Indie titles reviewed for public consumption, with our Steam Curator page: IndieGems. Our group page and curator page will always welcome new members and followers, so join us on our adventures, should you like.
Of the games we have played and reviewed, there have been some good ones, some bad ones, and quite a few maybe-yes, maybe-no titles as well.
So far we have managed to review a good number of game, most of them Indie because a lot of them have trouble getting attention in this large market. AAA games have a billion players and two hundred million reviews upon release, so our voices usually do not matter quite as much.
In any case, after realizing that not everyone checks the Steam activity feeds regularly, or for some people who have a large number of friends on Steam, new feeds easily get pushed down by a lot of frantic activity. After a couple of individual requests from our fellow Chronies that we start a thread here to talk about what games we are currently playing, and what games we are planning to review, I have asked the powers that be, and obtained the nod to move forward.
We have three people shouldering most of the reviews, myself, @yoshirules, and @dkny. We all have varying interests in the games that we play, and we all have different strengths. DK has a VR setup as well, and he likes to post some beginning gameplay videos as well to help the viewer decide a little about the game for themselves.
Our current playing list often varies, and I will try to keep it updated as time moves on. In addition, you will see other random smaller reviews pop up from us on various other titles that have caught our interest, in one way or another. And if we really have a strong opinion about a game, we will add a longer review as well.
Anyway, I will keep our list updated, as I mentioned previously, I will try to add links to any of our reviews as they go live, so Chronies can stay afresh of what on earth we have been up to–on steam anyway. Feel free to give us some thoughts about what we are doing as well.
In addition, if you have your own reviews that you would like to throw here for others to stare at in awe, please add a link, I would love to read more and write better reviews myself.
---
Completed Review Links (As of starting this thread, I won't add the old ones, unless someone asks for me to):
Update: Oct 6, 2018.
July 2018

The Painter's Playground
Seeds of Resilience
Supesu
The Quest for the BIG KEY
Beyond the Heavens
Meow Motors
GoPlay Editor
Dungeon Warfare II
Another Brick in the Mall
Hero-U: Rogue to Redemption
RPGolf
Isoland
Isoland 2: Ashes of Time
Cultist Simulator
MOTHERGUNSHIP
Mugsters
ESPER
The Tower of Beatrice
Brath
The Four Colour Theorem
Mercs
Koloro
Puzlogic
Seven: The Days Long Gone
E.Z
Dungeon Rankers
Jack B. Nimble
Ganbare! Super Strikers
Slasher's Keep
Jolly Battle
Fish Catcher
Jewel Match Solitaire
Ball Grabbers
KNIGHTS
Montero
Radiant One
Hexa Turn
Wayward Souls
August 2018

Legion's Crawl
Kensho
Black Paradox
Moon Castle
Fugue in Void
Smart Cube
Castle Explorer
The Rabbit and The Owl
Circle Empires
TRIP: Steam Edition
Fantasy Raiders
Pinkman
Repentant
AstroViking
MEANDERS
Who's in the Box?
Light Rider
The Fan
Perspectrum
The Grand Museum VR
Ding Dong VR
Mind Over Mushroom
Mr. Sweet
Whirlygig
Fell Seal: Arbiter's Mark
Death Fungeon
Antirocketh
Sword Legacy Omen
A Rite from the Stars
Geneshift
RUSH
DICETINY: The Lord of the Dice
KAMI
The Room Two
Animosity
Pizza Titan Ultra
Low Magic Age
Tubular Rift
LYNE
Fugl
LOOP: A Tranquil Puzzle Game
Lab.Gen.
Hero of the Kingdom III
SFD
September:
Just Beat Em Up : World of Fury
tiny & Tall: Gleipnir Part One
Shudder
Knights of Tartarus
Runestone Keeper
Golden Krone Hotel
Warsim: The Realm of Aslona
Breathedge
BingoBango
DUNGEONS OF CHAOS
Help Me Escape! The Puzzle Maker's Office
Scheming Through The Zombie Apocalypse: The Beginning
Guards of the Gate
RAZED
Cat Quest
My Brother Rabbit
The Gardens Between
Jewel Match Twilight Solitaire
Clue/Cluedo: The Classic Mystery Game
Kai Entity
Blood Card
Hasbro's BATTLESHIP
Salary Man Escape
Depth of Extinction
Resynth
Liftoff: FPV Drone Racing
Tactics Maiden Remastered
Parkasaurus
Razerwire:Nanowars
Tactics Rogue
Aliens Are Rude!
Space Bob vs. The Replicons
October:
Deep Space Waifu: FANTASY
Haque
Shallow Swing
Defending Camelot
Marble Land
Battlerite Royale
Tower Hunter:Erza's Trial
Lucy Got Problems
Valthirian Arc: Hero School Story
Games that I plan to write reviews for one of these days, just off the top of my head right now

Spelunky
Hollow Knight
Dead Cells
Super Meat Boy
Enter the Gungeon