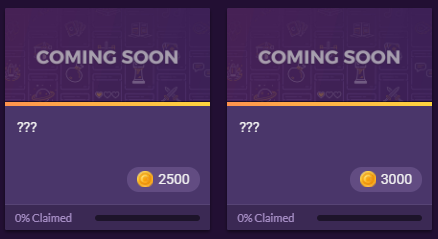 Soon
oh please let one of them be

just for lulz

(secretly hoping for 2 more games from my wishlist tho)
I was about to post the same thing…

One can only imagine what the 2500 coins one will be in this case

Jokes aside! GG chrono, hope some ppl will be really happy with the new games.
yea but that game isn't from the same guy that made Poop in my soup or Pooping with friends, and could be kinda hilarious to stick with that "series" of dank poops

I never realized there were so many games centered around 'pooping.' Who is buying these games? Is there like a huge audience of people who secretly want to shit on other people?

Well I'm off to bed, lets see if there's any of them left when I wake up.
it's 12 year olds and that's it
Anyone know exactly when they drop?
Not even, it's probably all youtubers making videos for said 12 year olds.
I think the concern is that if Poop in my Soup is 3000, then what could possibly be 2500? Unless the value of Poop was misjudged I worry that 2500 might net me Poop in my Shoes…or perhaps even Soup in my Poop!
I'm going to guess Mount Your Friends
I'm pretty confident that the director of Human centipede is a fan of the Poop franchise. That's one.
Why is there not a dislike button, I'm taking a coin from you.
Don't spread your hate wide open ( ͡° ͜ʖ ͡° ). Was

soup game always cost 3000

I think I'll pass this time