external funds used tool:
How do i get there in the client? I never use Steam in a browser.
All I know is what gamespot put in their article, which doesn't say/help much:
"While on Steam, head to the new External Funds Used tool, log into your account, and then scroll to the "Total Spend" row. There's your number."
What exactly is "PWSpend" and "OldSpend"? I assume "TotalSpend" is all 3 categories but it's unclear.
oh holy fck…

i did not need to be aware of that amount

-cant unsee


jeez

, all that beer money down the digital drain, such waste


I guess old is old and pw is recent, lol
i couldn't figure out to go there "by menu", -but you can just paste the link "in steam", like a comment on your profile or something, (maybe even chat message?), and then just click it, and it redirects you there inside the client
"Oldspend" only has a third of the sum and "PWSpend" is empty so I can't really make sense of those 2.
Anyway my total hurts me… and I'm just gonna never look at this shit again.
and to think how far you've come off those 20$ only


, the power of trade/effort



if only i could have bothered with such, i might have saved some of this, and i don't know, maybe bought something "useful"

, like an ice cream dispenser + choko shavings supply?



"PWSpend" refers to the money you've spent on games run by Perfect World Entertainment, a Steam partner which helps run CS:GO and DOTA 2 in China and is currently helping the platform expand into that country.
What, what. How?
I spent 40 and very rarely buy games. I'm really stumped here

That worked, thank you


(318 games on my account)
it's also fairly fun to compare with
https://steamdb.info/calculator/
since then one can somewhat slightly estimate how much one might have spent on steam games bought "elsewhere" (tho it doesn't account all that good for bundle prices/value iirc etc, but only "steam history prices")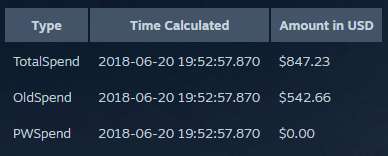 834 games in my library. So this is the amount of money you've actually spent with Steam, shouldn't include any 3rd party sales, bundles or gifted codes, right?
I think that's a pretty reasonable expenditure for a hobby spanning 10+ years. Though doesn't include all the money spent on hardware I suppose.
Ah yeah that makes sense, I've never given PWE money at least not through steam.
yup, and by harith's satuts, it doesn't even include "earned" money either, like the "digital $/€" one might acquire via the marketplace etc. Guessing since that's all "internal" money/repeat circulated $

I think it's reasonable to say I've probably spent twice as much on games in total, must put at least that much into bundles and GOG.
If you use Enhanced Steam it shows store purchases, gift purchases, in-game purchase, market transactions and total spent values in your chosen currency if you go to Sign In
y but i have to say it does feel like "work" by now, but i have to either keep going or stop buying games, my steam wallet went all the way down to $0.01 (am at $7.83 now) from $80 the first day of these sales cuz ppl desperately started selling all their stuff as they need moneyz. (will lead to good profit once prices go back up later, lol)
I had foreseen this which is why i immediately bought Doom as soon as the sales started cuz i knew i might not be able to do it after.