IIRC I tried out the G2590FX and it hurt my eyes. Ended up returning it.
Hoipefully you have decent color fidelity with it, some TN panels sacrifice that for other features.
Honestly, unless you are really big about color or are a graphics artist professional, you won't notice the difference too much unless the panel itself is pure hot garbage. TN panels aren't bad, they're just designed for different needs.
As for the ViewSonic VX2458-C-MHD, it's a good monitor, especially if you can get it around that price, but it is worth noting it is only 1080p and will sacrifice color in some regard against VA and IPS. However, it has AMD's sync technology on it, and odds are these days, it'll work just fine with NVIDIA's sync technology now thanks to their driver updates. It also has 3 different types of connections, so you got options.
Here's a good color comparison they provide themselves: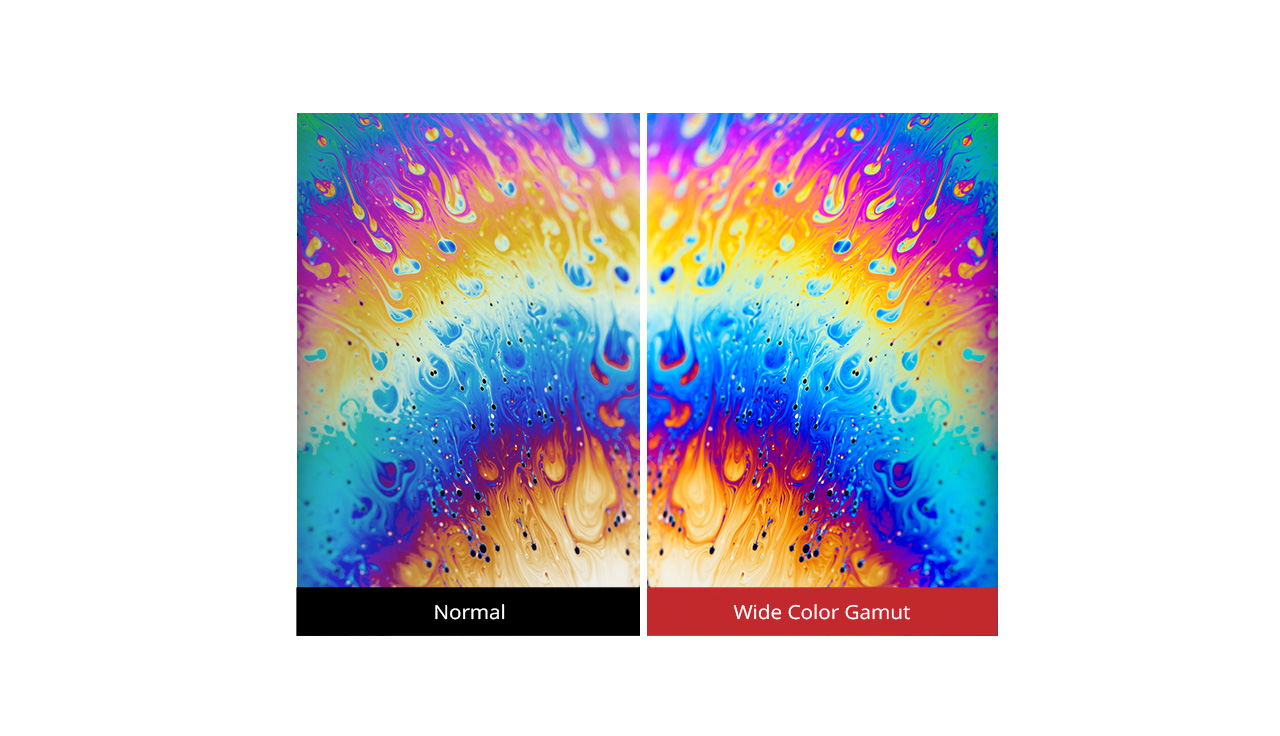 Honestly, if you are certain you are okay with 1080p and have no plans to upgrade beyond that for a good while, this is a nice monitor. Hopefully it has color control so you can further fine tune it.
I'll look into that. No specs on the site itself, so I had to look at it on Amazon to see more details. Hm.
@YQMaoski What other features? O_O
TN panels sacrifice color for performance and performance related features, such as smooth sync technology, lower response types, higher hertz etc.
Er what? I don't think I've seen a curved TN panel.
Also:
Panel Technology: VA TFT LCD(Curved 1800R)
There are, as far as I know, like four curved TN panels out there. That said…I'm surprised the link didn't specify the panel type! It is a VA…not TN! Wow! But why in the world is the colour gamut only peeking at 85%?! xD
In that case, if you can look for other stuff, definitely do it. A VA panel with these features isn't exactly good for that price range. If its all you can get, it'll still do the job, as a budget panel.
EDIT
Others from the website within that same budget if it helps:
https://www.bhphotovideo.com/c/product/1501489-REG/msi_optix_g24c_24_full.html (I own 2 MSI monitors, they're really good)
Well, yea, no specs on the site itself, I probably source the wrong one on Amazon?
@Rhyagelle I'm anti Dell. Just a thing, but I've check out the Acer. I have a MSI on the B & H site wishlisted as well, as I love the frameless look, but ti's been back-ordered since forever. Myrr.
Computer parts are going fast during COVID-19. It'll be a pain, but if there's a monitor you really want, you can back order it or put on alerts by Honey or something so that when it goes up, you will know.
In terms of monitors you shouldnt be. Generally ,yeah, they are just another scumbag company but they do make pretty good monitors all things considered.
Not in my experience… but that was back when it was newer, to our island anyway. I look at Dell in general sideways now.
Reluctantly agreed, I am also greatly biased against Dell primarily due to their absolute shite computers that I had to keep repairing over the noughties and tens for friends family and eventually customers who'd at least have to pay me.
But their monitors do tend to show up with pretty good specs and reviews. I just really don't want a dell logo in front of my face all day.
Same. The first time you see a monitor smoking like it just had a spliff, it kinda scares you for life.
Don't worry they are still shit and scumbags. They scammed LTT during their secret shopper episode this year.
Dell makes some rather shit tier lower end PCs. You will only find adequacy in their higher end models. Their monitors though tend to be on a different level compared to their PCs. They aren't that bad in the low end, and get pretty good in the higher tiers.
Oh,you didint want extended warranty?? YOU GET TWO.
Dell really fcked up hard this time around ( and other times from what i understood ).