It's supposed to roll oout today, April 30th and it's already 4PM and I've yet to get any notification regarding it.
Anyway, any of you folks excited for it?
I am hoping this update will go as smoothly as the last one, the Fall Creator's Update, with little to no hiccups

That said, when FCU came out my system needed to reboot four (4) times BEFORE the update fell through. But there were no issues afterwards… well in my experience anyways…
Also this isn't a hiccup or anything but, two weeks ago I experienced a weird issue booting up my system. When I booted up my usual icons were gone and all that's left was the recycle bin icon, as if it was a fresh OS install. And in the middle of the screen was this image…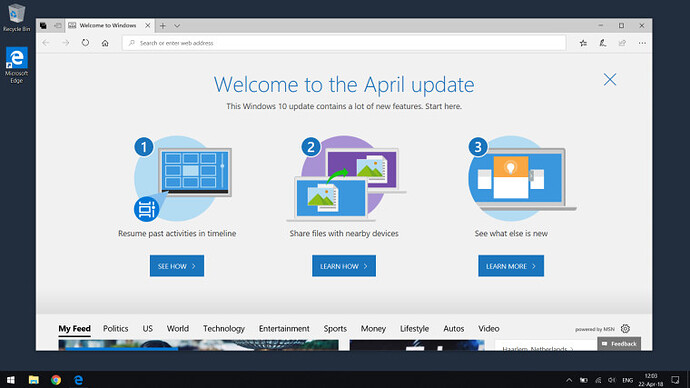 *That image isn't mine BTW, I just got it from Google.
However, the OS popped up a small window telling me that it (the OS) failed to log me in as my Microsoft account wasn't recognized. And that popup prompted me to sign out and log back in, so I did. And once logged back in, I got back my usual Desktop setup.
That hiccup happened on two consecutive days and on the third all went back to normal.
Reading up on Redstone 4, I found out that it was supposed to have been rolled out on the 10th, so I'm guessing my system caught the update early on and afterwards removed it? ??? And what's stranger still is I'm not even subscibed to the Insider Program, Microsoft's Program that lets their users try out new update builds ahead of everyone else to Beta test them for issues and bugs