anyone know anything about Portal 3?


valve can't count to 3

I love the original bridge constructor game… Haven't tried any of the spin offs… someday, I will try the Portal version too…
I know that a lot of people are into Poly Bridge, and I think that has its own benefits too, but the actual bridge simulation part of Bridge Constructor is better, in my opinion.
The biggest issue is the lack of an ability to copy/paste sections of a bridge, so you have to build everything from scratch. That is not an issue with Poly Bridge, of course… the copy/paste/rotate/flip functions are fully explained in the tutorial.
Don't worry. I'm sure Portal 2 Episode 1 will be just as enjoyable when they release that instead of portal 3

, wow, -rubbing salt in our wounds much there Madz?


that's some serious half-life trauma there



yeah its portal but i really loved the story and there is like no story.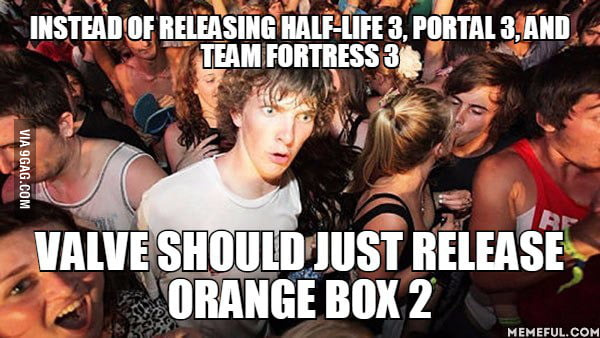 Bam, problem solved.
if its orange box 2 does that mean there is going to be team fortress 3 and Portal 2 in it? (and halflife ep 3 and halflife 3)
Nope, it has team fortress 2 remastered, portal 2 remastered and half-life 2 remastered.