Looks like they moved it. Click the account drop-down > Prime membership, then it's second from the top: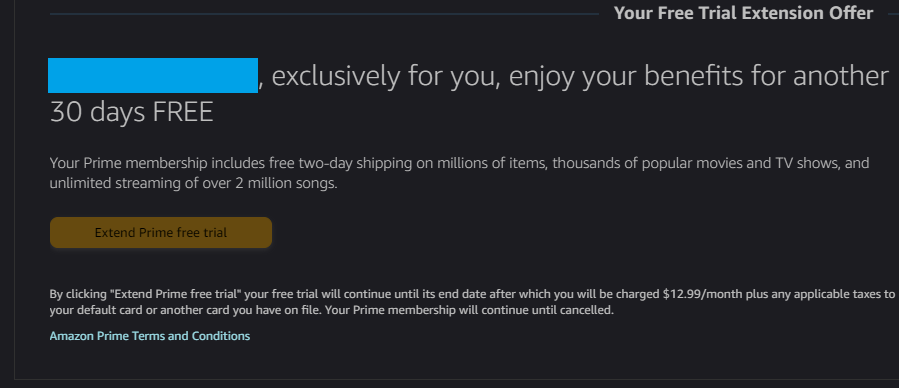 I've had it this year already, I think that's why I can't get it again this year.

Someone (Tencore) was very kind though and gifted me the Control game though, so it's not much of a shame at all to miss it now.

Oh…yeah, looks like you need to have a free trial of Prime currently active to receive the offer.
…wait, were you saying you didn't have it offered back when you did have Prime?
No, I mean because I had the trial earlier this year, I'm not elible for another one. I think you have to wait 1 year apart now, when before it was something like 6 months.
New games available on Prime Gaming: NFS: Hot Pursuit Remaster (Origin), Frostpunk (GOG) and many others.
Well, if one has a spare key for NFS I'd like to have one if you can.
Edit: A kind soul on Reddit already gifted me this game and Frostpunk.

They always drop 2 good games with 1 game that's meh meh, don't they? xD
Hmm I got a new trial in less than a year, idk if it depends on region
It's nice they drop games and all, but I'm personally hoping they drop more League of Legends stuff, especially RP chests. I'm shamelessly actually liking playing LoL and LoR.

Gwent and now LoR are the only card oriented games that I've actually enjoyed…unless I can count Triple Triad? lol
It may depend on region, or account. I've had quite a few trials on my Amazon account over the years. lol
I hate to do this, but…if anyone has an extra key for Frostpunk you don't want, might I ask for it purdy please? Not for myself. I already own it. I'm asking for my friend. He's really wanted the game for a long time and I was hoping to gift it to him for an early X-Mas gift but alas…I'm out of Prime Trials for the year and still poor as salted earth.

I can send the GOG account for him over if it helps anything? I would also send $50 Star Wars monopoly money over and a deed card to Short Line Railwords.

Thank youuuu! Now I can surprise him for once. Thanks so much for the generosity, Tencore!

Any Prime user here that don't play Genshin? I'll trade you a Steam/GOG key for Prime Gaming Bundle #7/8. Let me know.
Sent you bundle 7, couldn't get bundle 8 yet though.
Kudos for the generosity, @Tencore



I'd be interested in a spare key from Jedi Fallen Order if someone has it. Thanks in advance.
Edit: I got a key from Reddit after literally refreshing the page a lot of times. Take that, bots!

Sorry don't have any extra keys this month from Twitch as that is the only game they did in key form and I used it

No worries, thanks for the intention.
Besides, I already got the key thanks to Tab Reloader for Firefox, heh.