https://www.fanatical.com/en/bundle/kingslayer-bundle-2
Decent lineup here for $4.99, or whatever your regional price is: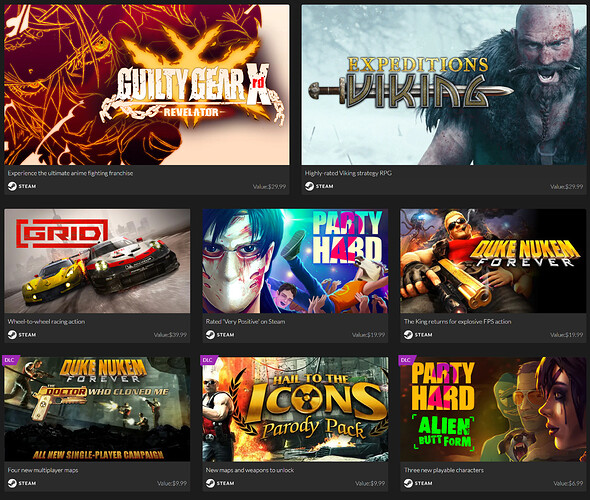 another fanatical bundle i'm gonna end up passing on. Cmn Fanatical, entice me

I thought maybe you would jump on it for Expeditions: Viking
yea that was the one that caught my eye, but i just don't feel like i can justify it for that alone for 5.39€, even tho it's technically a decent discount just solo/cheaper than previous. I'm starting to reach the zone where i'm feeling just a teensy tiny bit "guilt" whenever i just purchase games to add that just gather digital dust

… i might also just get such fomo about the price not dropping near that again anytime soon that i'll get the bundle anyway, oh the struggles we face

At least it's 'teensy', lol. I fear we need a game hoarders anonymous. O_o
I think I need to learn your self-control and curb my own buying habits a bit too.
I need some help, and I recognize that I alone am unable to help myself.
Could do a giveaway for the other keys if you're not sure you'll play those games any time soon ;D I'd happily take Guilty Gear off your hands.
…though DNF and Party Hard, for me, are reasons NOT to buy the bundle. Can't imagine it being easy to find someone who really wants those these days D:
Pretty decent , minus Duke Nukem that is. That game IS as bad as everyone says it is.
slowly points at him self
I'd take on Duke Nukem. Please don't shoot me: I've never ever played it before. hides

you really really shouldnt. I'd imagine if that would be someones first ever video game it would also be his/her last one.
I will buy a bundle just for you people, if you will all take it off my hands.
@Gnuffi: Expeditions
@eishiya: Guilty Gear
@DontBeSilly: Party Hard 2 + DLC
@Danacscott: Duke Nukem + DLCs.
I need confirmatory answers from all of you and I will go buy it. I think I know I will get to a roadblock on this one, because that's the defining nature of Chronies–Impossible to give gifts to.
Oh wow ;3; I'd given up on ever getting that game. Yes please I'll take it.
folds ears We are usually hungry hungry hippo-crites, yes. Love to give, shy about receiving. If you're sure you want to continue your buying habit, I should be curbing ye, but meow, if you're game, then I'm in. (We are the hopeless.

)
You already gifted me couple of great games so i would have to perform a sepuku to restore my honor if i would accept any more

If there's a way for you to do it in a game, I would consider honor restored if you would take the key.

@Gnuffi, if you were to see a key in your PM inbox, please don't shoot me or knife me… Dear Mr. Rocket Surgeon.
Had to look it up. Know it as Haikari.
Always bring guns to knife fights - villains don't play fair
There's actually a bit of difference. While they both refer to the same action, slicing your own stomach open ,Sepuku is a bit 'better' ? It's an official form of Harakiri, you get to drink last cup of sake and after you slice your own stomach open you will get beheaded by other person, pretty much saving you from all dieing process ending it quickly and relatively painless.
Harakiri is like a desperate form of Sepuku, it's performed on battlefield just before you get captured and obviously lacks sake part and no one is going to end your suffering quickly by beheading.
people be trying to gift me stuff lately…

that's not how it's supposed to be



i need to get rid of some of my games lol, i can't feel right accepting all these presents with so much digital dust around -can't very well do much against a decision that's apparently already been made


so now the tally is that i owe you 2 kidneys, half a liver, a lung and 3scoops of bonemarrow…