Hi Chronies!

Not sure if all of you know this, but I'm Brazilian

. Lived here my entire life and only went abroad once, to the US. This year, after saving some cash from my work with planes
, I decided to visit Western Europe for the first time.
I'll be visiting 6 countries (and 9 cities) in 34 days (from Dec. 12th to Jan. 16th.) by myself, with a backpack.
MY ITINERARY

UK
DECEMBER 12th - 15th: London
DECEMBER 15th - 17th: Lincolnshire
DECEMBER 17th - 18th: London

NETHERLANDS
DECEMBER 18th - 21th: Amsterdam
DECEMBER 21st - 23rd: Helmond

GERMANY
DECEMBER 23rd - ~27th: Cologne

SWITZERLAND
DECEMBER ~28th - JANUARY 4th: Basel

FRANCE
JANUARY 4th - 8th: Paris
JANUARY 8th - 10th: Auvers-sur-Oise (nearby)
JANUARY 10th - ~12th: Paris

BELGIUM
JANUARY ~12th - ~14th: Brussels

NETHERLANDS
January ~14th - 16th: Amsterdam
~ = approximatedly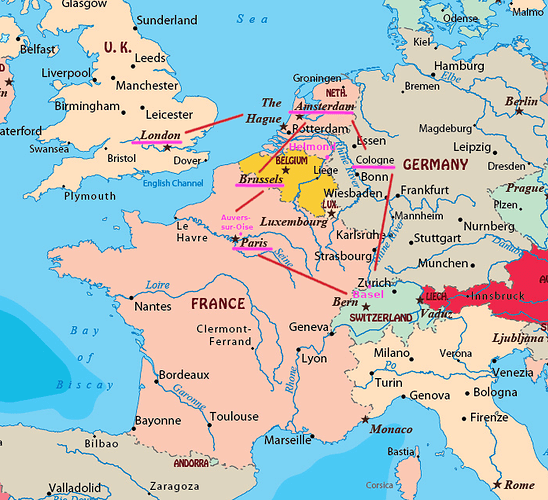 ---
MY PLANS - sleeping & transportation


I'll be mainly Couchsurfing to save $, but I'll also be staying at a few Hostels.
My sleeping arrangements are set for the UK, Helmond, Cologne and Basel, which totals around 2/3 of my trip.
I've booked 3 trains, from London to Lincolnshire and back (I have a friend who lives there) and from Basel to Paris. I bought the Basel-Paris train at really low fees and it's a really fast train too!

The rest of my getting-around will be done on buses, booked closer to day days of departure.
MY PLANS - food


I'm a hungry gal, so please share your cheap food chains, markets and general food advice with me. I don't eat red meat and I'm allergic to sea food – read: I die – other than that, I'm mostly fine. I also like to avoid eating too many fried things and I love trying out exotic food!
MY PLANS - culture


This is the hardest part of planning any trip, I think: deciding from what you must do and what you'll pass due to lack of time, money, or simply a will to do as you please once you're actually there.
Things I definitely WILL DO include: visit the Van Gogh Museum in Amsterdam, visit The Louvre and Versailles in Paris, visit Baker Street 221B in London, attend Christmas festivities in Cologne and walk around the woods to ski and snowball fight in the Netherlands and Switzerland, depending on the weather.
I don't like overly touristy things. For example, I rather follow in the footsteps of Van Gogh – my all-time favorite artist and one of the few people I'd be willing to travel in time to meet – in Paris rather than paying to go all the way to the top of the Eiffel Tower.
Are there any mildly touristy things you recommend in these locations? Any secrets anyone should spend some time discovering? Creepy churches? Delicious and cheap restaurants? Historical sites? Unexplained mysteries? Cool pubs?

Closing notes
I'm beyond excited. I've bought the plane tickets and the Euros and Pounds. I'm going to buy my health insurance this month and I also asked my godmother to gift me a 4-day Paris Museum Pass as a birthday and Christmas gift. Versailles better be ready for some HIGH QUALITY HAPPINESS TEARS.
---
Do you live in Europe? Have you been to any of these cities? Have you got any tips, helpful links, maps, guides, advice, hostel names, etc?
I sincerely wasn't going to make this monster of a thread all about myself but… @xist convinced me to so… BLAME HIM!