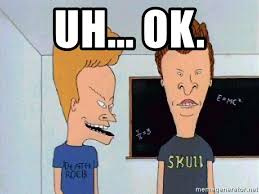 I am a big fan of the series too… I like animation, and I like dragons… so it works out.

My oh my, that's a sinister look on Astrid there.
Can I ask for a better subtitle than 'The Hidden World' ?
Honestly, for a children's film that is only slightly above 'Return of _____' for a subtitle.
The first movie was really good. second movie … also really good bit not as good, third movie… looking forward to it, but let's be real here, in any movie series the third is never the best. But who knows it could be the best movie ever, no matter, good or bad reviews I'll watch it.
The third Lord of the Rings movie was the best

Summary

Anyone who disagrees with me I will fight
I never watched lord of the rings


If I were to I think I would read the books

Looks like we fighting… Two Towers is where it is at… the films hit their best stride there. Return of the King felt a bit rushed to put the pieces together, over the top in the action and honestly (and perhaps contradictory) many sequences felt drawn out… The film just was going full tilt to reach specific set pieces, then sorta mucked around there before running as fast as possible to the next piece.
I won't deny Minas Tirith was awesome, but honestly the film as a whole didn't feel as great as I remembered it upon revisiting it.
@hivefleetbothan Well at least you admit Minas Tirith was amazing
@Nateninja21 I still have to get around to reading the books but I heard they are amazing!

I've preferred the first movie and the first book too. Mainly in the book, but also in the movie, there's a strong sense of urgency that kept me glued to each page. And the last parapgraph of the first book is simply amazing.
I've also liked The hobbit, and I mean the book. A much more streamlined adventure when compared to The Lord of the rings, focused on relationship rather than conflict. The chapter where Bilbo meets Gollum inside the mountain is so vividly described that will give you chills.
The Silmarillion is a fashinating book, in which you can find the origin of the rings, ages before what happens in the other publications. Not the easiest read, but interesting.
Finally, The adventures of Tom Bombadil is a short adventure featuring elves and dragons, the perfect read for kids.
@Twistedgerm the books are fantastic. When I was 13, I've read The hobbit because our teacher gave us that as homework during school break. I've finished reading it in just a few days; every night was hard to put that book down. Best homework ever.
A new book will be published soon by Tolkien's son. I can't wait.
Sometimes the power of a book is underestimated, like you said if you get into a good, well written book, it can be just as vivid, just as much there as a movie, maybe better. And I for one believe books can be better than movies.
Yep, and these are that kind of books

But in my opinion, Peter Jackson did a masterful job. Transferring the book into film was a daunting task, that he pulled off like no one before.
I recently went to my local Goodwill and found a little gem called "The Children of Hurin" by J.R.R. Tolkien.
Can't wait to dive into that too

Not even close! The return of the king in the LoTR trilogy is the equivalent of Ringo Star in the Beatles.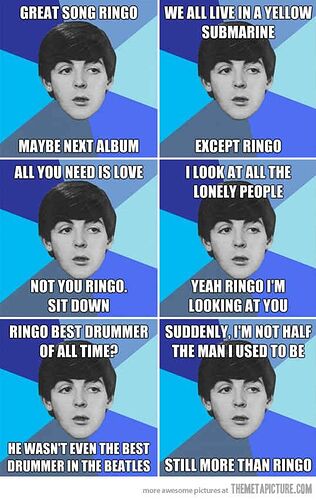 You have to love Spiderman 3 then

OMG I absolutely adore dissing on Ringo. Seriously I did that like yesterday with a friend when I was giving The Beatles as an example to something: "Yeah you know and some times Paul wrote some songs, and some times John did, and some times… well, Ringo did… but, you know, we ignore those times. The fact is…"
although I actually do like Octopus's Garden… and I actually like Ringo, because he was a cool dude.



So…
I don't know how to say this, but I have never EVER heard a single song from the Battles at full on my entire life, some bits here and there, but I have never bothered to pay attention to them, they just don't seem that great to me.