EDIT 2019.07.17. - This seems to be no longer the case and now you should have full activation/purchase history. I hope this "feature" is here to stay though

. Thank you @Strifeborne for the input.
Every time I picked up something there for free I always made sure to check the Payment History of my account on the browser. I've never installed the Epic Launcher! So far, there were no issues until today's RiME free giveaway.
EDIT: It's confirmed now by @Gnuffi that you still have the games in the launcher library… though that's not the bigger picture. A friend of mine who has spent plenty on Fortnite assured me that the Payment History keeps track only for the last 3 months, no matter if you got something for free or you actually paid for it.
The only way you are supposed to prove you bought something is from the recipe e-mails you get from buying things (and the paypal ones if you use their service). There is no actual log you are allowed to access to know what you actually own, except if you request Personal info data of your account that apparently can get send into the wrong hands


This means you have ZERO ownership on those freebies if something happens on epic's end.
Further down is the original post of course:
I've picked up every game they have given out since the start around December 2018 or whenever it was. This is what I see on the web page now >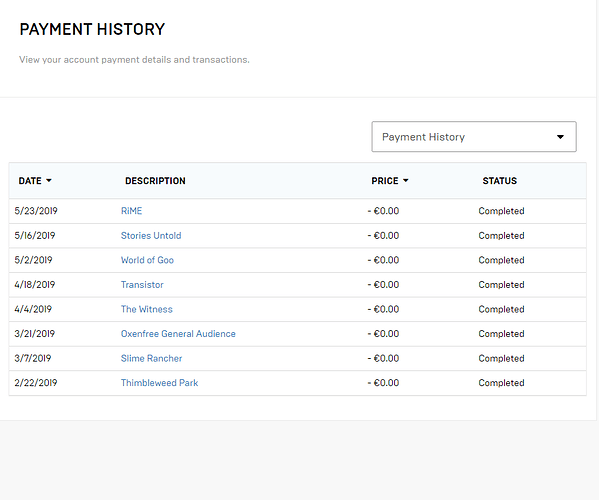 It seems everything beyond the last 3 months was removed? I don't even want to bother installing the client (never even seen how the thing actually looks) to check if I have the games there…
Anyone else with similar "issue"? Have you checked your payment histories at all there? If that's common practice on their side … it seems it's get something free for only 3 months - not for forever

.