https://www.fanatical.com/en/flash-game-sale
55 games will be on flash sale in these 2 days. Keep an eye out for the good ones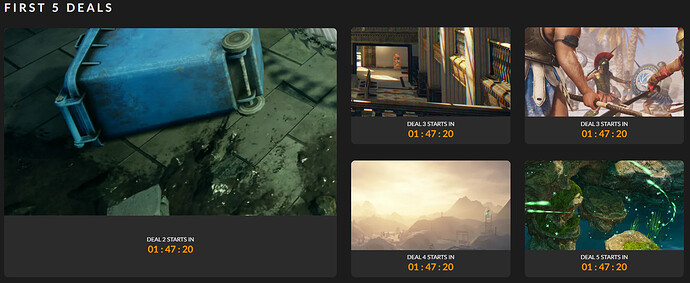 deal 3 gotta be rome total war

deal 4 looks familiar, Valley? and deal 5 img seems like something i partially recognize too, unsure…
Thanks, @pegasusz



Idk why but I visualised the games taking their clothes off when it said flash sale haha
Too much anime for you probably

I was thinking about Ass Creed Odyssey … ? But honestly i have no clue what any of these are supposed to be…
you're probably right, i just checked and both the spartans and athenians looked different in Rome Total war - was "sure" it was the promo pic from the spartan pack, but it wasn't

Odyssey confirmed, from the steam store: https://cdn.cloudflare.steamstatic.com/steam/apps/812140/ss_16fc551879ac299dca68839da90f89d9e624db48.1920x1080.jpg?t=1595367552
Deal 2 seems to be Wolfenstein related. I remember one of the levels looking like that. It's either from Wolfenstein II: The New Order or Wolfenstein: Youngblood.
Could deal 5 be "A Story About My Uncle"? It has a similar art style. Deal 3 looks like PayDay, deal 2 i was guessing Dying Light, but idk.
was thinking it might be payday too, but at the same time it also just has that super "generic" feel that it could be "any" game lol so i didn't take a guess on it.
not sure on deal 5, it's the particle effects that has me questioning it, those floaty + signs. From a "floaty" platform style it fits with story about my uncle tho, so could be

Thanks, @pegasusz



Results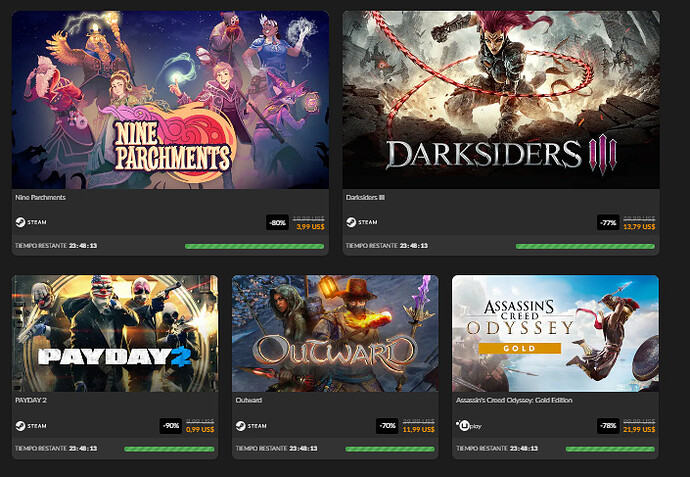 Idk why some of you said Total war

Next ones, I'm 100% sure that the first one is XIII classic


wth deal 2 was Darksiders 3 ? @_@
4 was outward and 5 was 9 parchments…

I've played some of it on PS4 and that image is absolutely not representive of the game… btw it's 3,not 2.
lol i meant to edit deal 2 and did it to darksiders instead

i've completed it a couple of times, on PC, and i didn't really enjoy it super much, but i probably wouldn't have used a screen of a trashcan to hint at the game, i mean it's not that bad

i will still say tho, for people potentially interested in it, even with the discount, you sorta have to know what you're getting into, it's not like the previous games that much - elements are present but it's not the same feel. Would i recommend it at that price, if you really like darksiders and/or less than stellar hack n' slash with "dark souls combat"esque emphasis then yea maybe, but you're probably well served doing a bit of background work/yt vids before committing despite the discount
I feel like it got same treatment as Lords of the Fallen…is it bestest game evahhh? Nope ,but it's also far from bad or anything like that.
for me the problem was trying to roll with the dark souls fad, the combat shift noticeable enough that it felt like a bother, and the exploration felt less satisfying, it just had this overall sense of "not really being darksiders", like too little attention to the game was put in and more importance on trying to be popular because "badass womanz and souls-lite combat" - and Fury just came off as a total dud when she could actually have been badass

there were actual moments of eyeroll during some of her scenes which just felt so sub standard like they were trying too hard to make her "ragey"… and instead just comes of PMS'y like she just needed a snickers or something. "hell hath no fury like a woman scorned" did not remotely come across in Fury's portrayal which was a bit of a letdown for me with all the hype (yes i preordered, but only because i got a massive discount

)
There are a few more deals: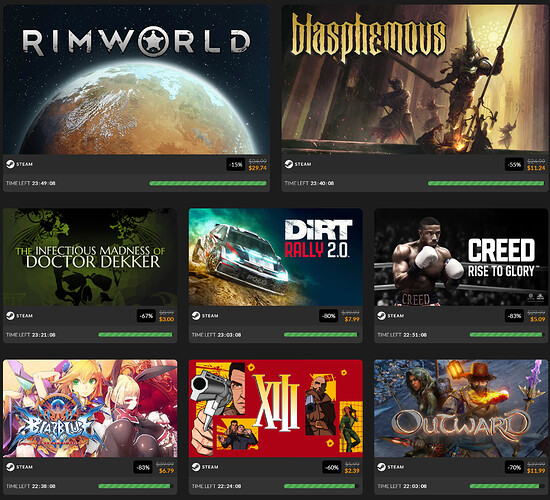 Anyone have any experience with the Doctor Dekker game? It looks interesting.