Beta was so much fun, can't wait to play more. They said they want to repeat it again next week. Hopefully it's open beta then.
Also: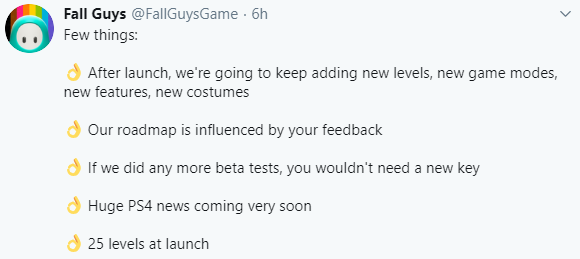 I'm just outright promoting right now, I know

but it rly was just that much fun, like Rocket League, TF2 levels of fun.
I was also rly impressed with the netcode and stability of the game. Living in Egypt, it's not always a given to have a good connection to online games, but in 7 h played, with up-to-60-player games i never experienced fps drops or lag, not once, and i had 1 single disconnect from server, though it would imagine that that was because of my internet rather than their servers.
The only bug i saw was that sometimes, in between rounds, the screen were eliminated ppl would be pushed of their platform would not work and it would look like game was stuck, but then it would still load the next round regardless every single time.
I also did feel that in the game where you have to grab ppl's tales, that mechanic wouldn't always consistently seem to work the same way, even sometimes having your own tale being snatched from what seems to be a too great distance for that to be accurate, so i imagine that would possibly be due to netcode and would need improving.