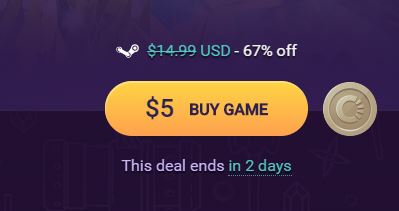 Are others also experiencing this?
I agree. The entire, founding concept of the site is why I'm here. To change it would diminish my experience and, likely, my interest.
I'd be ok with it if it was 24 hour rotation but the previous days deal was still available for an extra day.
I have a routine to check every day. If I have to check now every 2 days then maybe it switches to 1 day. It would be confusing. I say just stick to 24 hours.
Agreed, not a fan. If multie-day deals must happen then they really should be reserved for large bundles, very expensive or otherwise special games.
Epistory - Typing Chronicles has been bundled twice. It is rated overwhelmingly positive and $5 for a $15 game is a good deal but what reason is there to feature this game for 48 hours over the historical 24 hour Chrono deals?
Edit: I agree with the further comments in this thread that a 48 hour deal could run concurrently with the daily deal but a new game each day is the core identity of this site. Any change that encourages users to use your site less, and some would as not everyone cares about daily coins, is a net negative.
I hate 2 day deal's it mean's less deal's overall 2 day deal's are for lazy people lazy people dont care about making deal's anyways so stick to the 24h thing you have been doing for ever now and make loyal fans happy.
My Opinion

I don't like the 48h either. I would be okay with the deals going for 48h but having a new deal every 24h. In this way people who missed a deal for whatever reason have a longer timeframe to get it and everyone else got the 24h as usual.
I quite like this idea.
It's exciting to come to Chrono every day to see what's available. Most of the time, it's not anything I want so coming here can already feel a bit wasteful, and if there are fewer deals, that's even fewer chances to find something I'm curious about D:
Adding my two cents to the pot of One Day deals only.
I don't like it either… I prefer the 24h format…
Please bring the daily coins back!!



yo

, -coins haven't changed
https://206.81.1.216/t/epistory-typing-chronicles-7-14-18-7-15-18-5/11929/5?u=gnuffi
Keep it 24hrs. It's literally the appeal of the website.
I think this is only of value if you anticipate the title to be of high demand otherwise it's just annoying and more likely to make me forget to check for new titles in time.
sounds like an awesome idea to pair with that 48h deal concept

yup


agree, i wouldn't want less "games discovery" here either (but more in fact if possible).


wouldn't mind if chrono tried some "multi deal days", like say running 3 diff games (or more), -sold separately, the same 24hour ?

(even if that could have some potential conflicts too)
Oh I'm a total dumbus thanks for clarifying
48 hours wasn't great, but it was ok