INTRODUCTION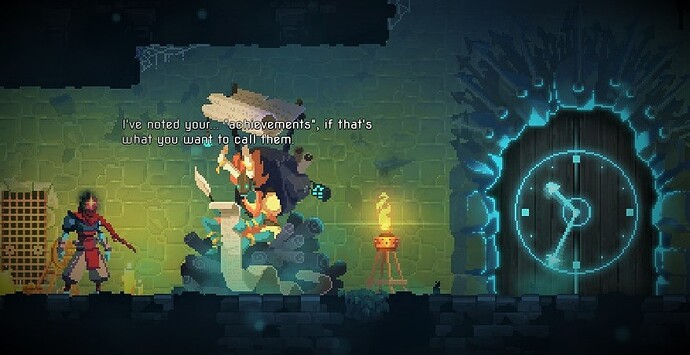 What's this about? What's going on? Climbing high in the daily run leaderboards, or… Try Hard… and I can't be the only one around here. I have noticed that the interest about Dead Cells is growing in this community and why not try to help a tiny niche of it's player base - people that want to feel the accomplishment by putting their names in the top 10 charts by legit means and at the same time doing their hobby (gaming) via the daily runs. At least that's what is driving me. How am I gonna do that? It's quit simple - by breaking the daily runs and explaining how I rolled and what I find in them + maps of course. Helping chronies push their limits and getting top 10 is the goal of this endeavour and surprise surprise … this will push me even further and we can improve together and learn from each other.
Recently I've been more "try hard"-ing the daily runs (don't get scared, this means 1 to 2 hours a day) and I'm almost constantly in top 20-30. It takes max of 10-20 attempts to get there if you know what you are doing before the true grind - top 10, which we will discuss LATER and how optimizing the runs actually works.
I will provide a map with breakdown of the gear I use and full explanation what I'm doing and why.
IMPORTANT INFORMATION

Your progress in the main game DOES MATTER!

CELLS ACTIVE, UPGRADE PROGRESS (at the forge) change what gear you will get and what modifier(s) are associated with it + different gem drop placements, number of monsters and even Elite types of monsters. Don't get discouraged - it's not impossible to get top 50 on 1 cell unupgraded in some Daily runs. You can get pretty far in the scoreboard with basic gear, but always depends on the killing potential and how good your synergies are or if they are locked behind something you can't access.
Having 2 or 3 cells active while having your gear upgraded at max won't help you at all. You will get lower level weapons with lower base dmg and less modifiers.

Score Comparison of 1 Cell to 4 cells / no upgrades to max upgrades - only 2-3 attempts

I tested with 4 cells difficulty (everything unlocked and upgraded) compared to ZERO cells (zero upgrades) on the same save file and new save slot that has only the Vine Rune and the Daily Rune unlocked and the differences are huge. @Fraggles testing supports the fact that upgrade percentage in the forge changes the weapon modifiers completely…
My idea was to post daily breakdowns mainly of 4 cell runs, but if you guys need lower I can do it! Aligning the upgrade percantages though would be impossible, but the said gear should be in it's exact place and you can find a more suitable pathing depending of the synergies you can get depending of the modifiers.

Item Comparison depending on Cells active and Upgrade percentage

Those item drops are from killing the same Elite

Unlocks (Blueprints) don't matter so that's why the game incentiveses you to try the daily as soon as possible. Killing the first boss giving you this possibility can't get any more obvious you need to try it. You get extra blueprints by participating in the daily run and it doesn't need to be consecutive days (have to kill the "boss" though) - Switft Sword at day one, Aura of Laceration at day five and Meat Skewer at the tenth day.

CHEATERS

At first I thought to not address those, but recently they are walking on my nerves. Just check the daily run leaderboards for today and yesterday and you will understand why. It seems they are pausing the clock at whatever moment they want and even getting items or gems (including the +75 000 pts one) in the daily run. My mind can't comprehend why they do it when it's so obvious, but that's just me… Being able to get so high in the leaderboards despite them is an achievement of it's own. I'm just hoping Motion Twin deals with the situation as soon as possible. The official release of the game introduced even more of them… it wasn't so bad few months ago but it is what it is. I think we can wreck them in some daily runs - my highest score was #7 after it ended and it's because it was the prisoners' quarters biome where it's pretty easy to kill everything in time.
I don't think It's needed to post screenshots and stuff … they are pretty obvious. Use the official leaderboards to see what's up … the in game one doesn't matter and that's how we try hards do things
Basic Information
/it will get updated as I roll because I tend to forget about things and can't hurt if you don't mind to pitch in :D/
THE TIME - Don't forget 4:30 on the clock everyday and it resets at 00:00 UTC - that's all you get and from here we go to the most important things, like:
What gives you score
---
Killing enemies - No surprise there. Bigger the guy or more annoying - more score as usual
Elites - of course you get extra points for killing those! It's the base enemy points multiplied by 5.
Opening chests +20 points.
Cursed chests +30 points > +25 points when you lift up the curse and +5 points opening it. Don't forget it always gives Skill Scroll.
Stars +5 so basically they count like free kill just to walk through them. They give a 5-point bonus for each enemy killed while the blue star effect is active, which is 15 seconds! Take advantage of those. Something that the wiki doesn't mention is that while you have the star bonus active you get +5 for every action that gives you points - opening chests and breaking secret runes in the walls.
Gems - depending on the rarity
Secrets +20 pts / Killing monsters with drops (not confirmed - I'm being too lazy)
Boss kill +270 > it's +250 points (at the end screen as a bonus) and +20 (for being the biggest monster in the daily). It's always The Concierge. Killing him completes the run (obviously you will want to save him for dessert) and the boss has lowered health compared to the main game variant, no defensive abilities but starts straight with stage 3 of his attacks. Really easy and fast to take down - most of the time less than 10 secs in 4 cells active and maxed out gear upgrades from the forge. I usually tank all of his dmg even not being max health engaging him, except when I go with a good shield - that's when I parry.
BIOMES

This is huge category to breakdown and will take some time to explain those and how they change the flow of the game because of the different monsters. /work in progress/

ANCIENT SEWERS

Motion Twin managed to intertwine the atmosphere, the enemies, the rhythm of the place in such a way that you can actually smell how stinky this place is I love it! There should be an epilepsy disclaimer for this place and soon I will explain why!
The water is replaced by toxic poison pools. Dipping your feet for less than half a second won't hurt you, but any longer than that it will tick a small percentage of your health. The toxic pools are always largely spread and sometimes the count goes like a hundred. It's almost always impossible to avoid at least hitting one or 2 of those mainly when you stomp from higher platforms to save few seconds in your area transitions. This isn't that scary because the amount of chip dmg is actually tiny and the fun thing is that when it starts ticking you can avoid the whole dmg completely by swinging at enemies - replenishing your health constantly. This applies to all kinds of poison and we even have such kind of enemy present in this area (about that later). Although this will rarely be able to kill you this renders one really important modifier of your gear: +50% DMG if you are at full health almost useless!

Enemies

The enemies… this is where if you have epileptic condition I can advice staying out of this The flow of this area is probably the fastest of them all. Explosions - everywhere… tons of flying enemies… projectiles… charge attacks… Underground attacks and ambushes… If you haven't mastered your dodging skills - this is the place to go to learn! It's so frantic that I can't complement how interesting is to play it.

Shieldbearer - common enemy as we already know even from the starting Prisoners' Quarters biome, but ofcourse annoying to deal with. If you don't have gear that can go through his shield the best option is to try a way to stomp on them, because they provide pretty high points for their HP pool and better not miss on this opportunity.

Purulent Zombie - Slow and really harmless for experienced players. It can ambush you hiding in the ground and it can contain drops, such as scrolls, gems, gear, food. This means it's a must to have few goes of the daily to check every platform if there's an ambushing hidden enemy to make sure you aren't missing on something valuable. On it's dead it spawns several Corpse Worms. This is where the fun begins - they follow you by teleporting, even on insane distances! They don't provide you points, but like all spawned minions you can refresh your Speed Buff timer by killing them, so use them wisely and best before using a portal to go to another junction with the buff on.

Scorpions - Another ambushing enemy from the ground and actually … they are always hidden - you will never see one roaming around if something haven't triggered his appearance. Like the Purulent Zombie it can drop whatever. His poison attacks are really annoying if you get hit and don't recover your health by hitting it or whatever other enemy is close to you asap! They tick way more damage compared to the toxic pool in the area. The poison projectile attack is pretty slow and can be outrunned even, but always keep your dodge ready when you have one of those on the same platform as you are.

Disgusting Worm - The name speaks for itself, but there are some handy ways to make your life easier. First of all it can charge short distances by his biting attack which allows it to even change platforms! This might be useful if you manage to make those jump to their death or follow you to a platform where you have a cluster of enemies to take them all at same time. Upon death it releases plentiful of bomb charges that explode in particular sequence… Oh boy, isn't that fun ?! You will get stun locked if you are in the middle of those so the first best way to avoid them is of course - dodging sideways, but if your dodge is recovering and it's not ready yet go double jumping. As you probably know shield parries repel projectiles and makes them your own and harmless to you. The bombs are no exception. Assault shield while thrusting you forward (especially combined with the dodge mechanic) can sweep all of the bombs in one go and lash them at an enemy in front of you! All boots gear can repel those bombs and yet again render them harmless for you, but this is not really reliable, because when you start kicking you will get hit by the bombs behind you and it's a time waste.

Spiker - The name is self explanatory. It has only one attack which is insanely telegraphed by flashy effect on particular distance on the ground where you are currently at which turns into spikes after few seconds. If you are always on the move you will never get hit. Killing the spiker in time cancels the spikes spawn of course! If you are on a tiny platform and closed off by side walls your best bet is to double jump before you get hit because this thing hurts. Trying to drop down from such a situation isn't recommended because the drop down animation takes more time and if you are passing through the platform at the time when the spikes appear - you will get hit. This enemy doesn't have much health so I don't consider it really annoying. Interesting thing to mention is that this is the only place when you can see those in all of the biomes!

Kamikaze - The most common flying enemy in the game! Thankfully they die by literally everything … I suppose their HP is only 1. If you don't find the means to kill them and pass them they might initiate their self explosion and you won't get any points nor possible drops from them! In daily runs when those guys are around I try to always have one piece of gear that can kill every single on of them even when they are not strong providers of points by giving only +2.

Buzzcutter - Another flying enemy, which is probably the most annoying. It has some of a health pool and this is what makes him annoying. It will chase you through insane distances and even after teleports. If you don't have gear that can kill them in 1 hit I recommend just going forward until you can gather few of them in a chest room to take advantage of the Paused timer and to probably refresh your speed buff.

Most points here come from the Shieldbearers and the Spikers +6 points for each of them!

PRISON DEPTHS

This is level 3 biome and a lot of people are scared from it. It's probably the hardest area you can acess in the regular game mode early on - it can be your 3rd area right after the Promenade of the Condemned (not available for Daily runs) and leads out only to the Ossuary which makes it the only possible extra area so far in the game. This is the only place that extends the regular playthrough with + 1 biome if you wanna go the slowest playthrough possible.
It's not that scary at all, but some practice is required and what better opportunity you can get instead of playing the Daily run a bit?!

Enemies

The familiar ones from previous level Biomes are the Zombie and the Kamikaze so no point in addressing those here.

Thorny - Low HP pool, but as annoying as it can get. Their backs are protected with spikes, so hitting them from behind will damage you, but still damage them as well. The Thorny has only 2 attacks and thankfully one of them is rarely used. What they usually like to do when see you is to start up really long wind up animation that leads to "Sonic the hedgehog mode" and they are really vulnerable while they wind up and it's easily interrupted. The second attack as rare as it is, it's really annoying and it's triggered when you are really close to them and they didn't had the chance to start the first one. It's short backwards hop which often aligns them with their back towards you so you need to roll through them to face their unprotected front side. The worst part is this one is way faster and they have short recovery time so if you aren't fast with your attacks they will turn their back against you yet again. After some practice you will find them as harmless as Shieldbearers and they are easy provider of +5 pts. Don't forget you can dodge through everything they do and easily jump over them (not even double jump required) because of their small size.

Slasher - Considered by most players as the most dangerous and even one of the hardest enemies in the game I beg to disagree. They have only one attack pattern which consists of 3 sword slashes and the third one launches a fire shockwave coming from the ground in half a screen distance. The only thing that works for them during this combo is that they can turn around towards you in between their hits when you dodge through them or jump over them. Safe strat is dodge through them all their attacks and they are really vulnerable after the shock wave. You can even single jump above it staying on their front (no double jump required). Dodging like that is huge time waster on a Daily run so when you get used to them start throwing a hit before each dodge (if you aren't going with really slow weapon of course) and if the weapon has decent breach multiplier you will break their slower third attack after 2 or 3 hits and making them easy kill.
The only other thing they have going for them is a blinding fast dash towards you which is welcomed in the Daily, because they present to you opening opportunity instead of having to chase them down. Giving you +6 pts seems right.

Masker - They have no attacks at all so they are harmless on their own, but the danger comes when they are protected. Covering a large area around them with fogs that renders all enemies invisible can be really annoying, especially when they aren't that easy to reach, because this spell works through walls of course. When you get in their range make sure you have your crowd control gear ready and your dodging skills are sharp because they are often surrounded by powerful and heavy enemies. +5 pts for those.

Hammer - Those are only placed in the Prison Depths. Now that's really annoying enemy if you don't have enough damage output to take them out quickly. They have only 2 attacks. First one is a ground slam so if you are underneath them you will get hit and this move is always followed by 4 bombs release around you. Because of the slow fuse you will have some time to land few hits before having to jump out of the bombs range and because they explode one after another in a random sequence dodging in any direction isn't advised - double jump out of there if you don't want to tank the damage. The second ability they have is spawning 4 Corpse Flies (they do reset your speed buff so take advantage of that little fact) which is even more annoying than the first one. You might think ranged weapon is the way to go against them, but if you don't have piercing or AOE the flies will start to block your projectiles pretty soon and you might get overwhelmed by flies and bombs at the same time. Having high damage output before engaging is the best way to go if you want to kill them unscathed.
OPTIMISATION of the RUN
From my understanding I can break down this experience in four components: Speed (LOL like someone didn't expected that); Routing; Gear; Enemy management, which are all tangled together… so intertwined that they work like the musical instruments in your favorite song. Motion Twin managed to nail down that aspect of the game perfectly - each of those things reacts according to the rest and I don't remember any other dev managing to pull it off in such way. If you are falling behind in single one of those things nothing will work in the end.
1. SPEED
This is really complex topic. Sometimes you will be able to take out every enemy on the daily (depending on the biome), sometimes you need to try to make the best by making sacrifices. The most important thing though is the speed boost you get after killing 8 or more enemies in quick succession that lasts for 7 seconds. This buff is indicated by the double arrow pointing right above your head and increases your base speed about every movement you can make - running, dodging, climbing, etc. The best part is that killing a single enemy refreshes it's timer, the bad part about it is that you need to find a way to maintain it and this is where the rest of the components come in place.
2. ROUTING
Probably the hardest part of the Daily. You need to take notion of every enemy; every gear (every possible synergy) and find the order that will allow you to kill everything possible as easily as it can be. This is where I have most of my problems and probably that's what we can figure out together and push each other further.
3. GEAR
I hope you have learned from the main game already (if you are new to the daily) that there's not bad gear - utility or weapon … everything can work, it just depends on the synergy and the situation. Really often you need to grab a weapon just for particular junction or 2 to make your life easier and this is where you can get full advantage of pathing and speed. Sometimes you grab the utilities that complement a particular weapon you love to use in the current daily run. I will explain how I put those pieces together in every daily run breakdown, depending on what I find to be the fastest combo for said day.
4. ENEMY MANAGEMENT
In the main game killing enemies left and right isn't punished as hard as in the daily. In a hard biome you will be often forced to skip a lot of kills if they aren't exactly on your way. Getting kills of low points enemies in a cluster on your way may grant you a lot more points than struggling with few harder enemies. The ability to maintain the speed buff to get as much as points as possible is what matters here and of course it's easier to refresh your buff at low health monster. A lot of the times it's possible to kill everything straight up, but you need to consider the Routing and be able to get back to a monster after using a portal to keep up your speed. Leaving one or 2 behind in particular junctions is common way of doing things if you can get benefit of doing so.
Don't forget the game is PAUSED at chests - useful for enemy management and dragging aggravated teleporting elites there. It might be a good rest time if you decide to have a flask swing to replenish some health. Consider your speed buff though because you will lose it staying there.
FINAL ADVICE

Thanks Motion Twin for making this reference!
IMPORTANT LINKS

DAILY RUN LEADERBOARDS
WIKI about Mechanics
WIKI about Daily Runs
P.S. The whole thing is a work in progress so any advice on formatting and whatever is highly appreciated, but don't forget I'm lazy

. Whatever you think of what must be included - feel free to suggest. I just hope there will be some interest for this.
I'm non @Gnuffi alt so constructing and editing paragraphs takes a bit of time for me

My english isn't the best as you can tell already and sorry about that