What he said.

Okie dokie thanks for the answers.
Also i logged in 10 times and refreshed well over 10 times and no coins.
Just making sure, you've clicked the coin next to the BUY GAME button right? Or is it greyed out?
Just to add a suggestion (apologies if you're already aware) but when you say 'refreshed', do you mean via your browsers reload button? If so, try CTRL + F5 instead to force reload the page, this works across most browsers and literally forces it to load the most recent version rather than any cached elements it might have. Might be an easy fix?
Thanks for the clear explanations @lonin and @Shalandir !
Because not everyone understands Chrono.gg's "cycle" is every day at 9 AM, perhaps you could call it a reward anyway, but then put a timer under the current reward, and the other days will just say "Next Reward," "[Whatever]day Reward," etc. The timer would pretty much be identical to the front page one as everything changes at the same hour anyway.
Initially I too thought buying the game is what gives that reward, but after looking at my coin history I realized it was related to the free daily rewards (this would be before I asked about the bonuses).
I had no clue you had to click the coin >.> i thought you just had to go to the coin page or something.
Works now >.<
There's also a practice coin for you to click on at the coin explanation page. Great fun for all of two minutes.
I love you guys. Always did, always will. <3
Also wanted to add that the % claimed progress meter for the games in the shop is a nice touch. Wasn't sure if we'll be blindly guessing how long a game will stay on, or if we get a way to check how much we should panic as we save up our coins. Now I know, we will be well informed when to panic, which is perfectly fine by me.
I'm having trouble with the coins also. I'm on day 2 streak, and Ihad my coins reset to zero. I have been ctrl-f5ing about 10 times, and my coins do not show up. I even logged in through Chrome, and it only shows my coins from today: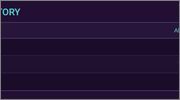 Apologies Xeyla, we're looking into that now.
Yay! My coins are showing the correct amount now, thank you very much


I'm really liking this whole coin concept you guys have put in. I'm on a limited budget, so doing something like this is very appreciated. You have gained a new follower until I can no longer support my gaming habit (addiction, really).
Hello, I am having problems with how many coins my total is showing as well. I tried logging out and in as well as refreshing the page. Hoping this will be fixed soon, thank you for your time.
Hi Chrono,
I got curious about the Chrono coins system and decided to test something
I created a throwaway to test the coin system and see if I could milk it from multiple accounts
I tested it only once with a single throwaway on the computer I mainly use.
it worked
Do you have anything implemented to prevent people from basicly botting the coin system or making multiple accounts to farm coins for keys?
Just curious
First off, thanks for the system! While it's still in the early stages, it's great to have a system where we're earning something with our daily checks.
That being said, I was curious about how some of the items are already being purchased. The system's only been active for a few days, and while I've gotten about 800 coins with my two days worth of clicks, I'm already seeing 1% claimed on the games that cost 2000 and 5000 coins - it doesn't seem like it should be possible for someone to have purchased those items already. Is there any legitimate way to have earned so many coins already, or is that an indication of abuse of the system?
Please send us an email at help@chrono.gg with your account email and we'll take a look.
We do, but thanks for checking on that and letting us know!

For the higher value games we made a few test purchases just to make sure everything was working, so no worries.

Hey, small question. Something I find weird, as it were. In the store, there's a "% Claimed" bar of sorts under each of the available games? What… Does that mean? Are they in limited supply or something?