feels squishy We defo. need more news like this.

Thanks @M00
That is pretty wholesome. I didn't realize there would be some happy stories besides the Skyrim grandma.
Also, is it just me or are emojis not showing up?

Edit: Except for my own?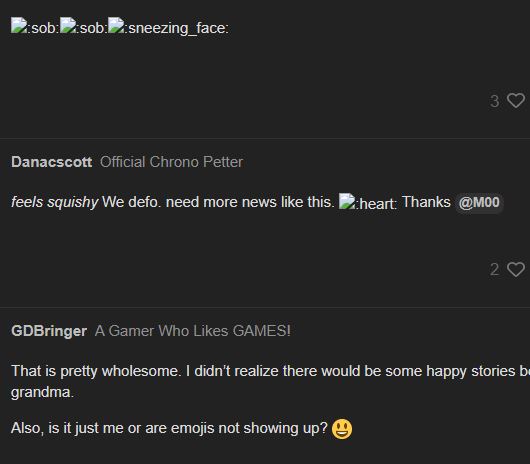 Your smiley face is showing, but the others are just broken pictures.
@dusty Houston, we have a problem.

The wonder crop sounds interesting. Also, giving people back the land that was theirs when others "discovered" it, is much better the reservations/monetary recompense. Good stuff in that article @delenn13
Honestly, wondercrop to me sounds like "superfood". Some sort of "healthy living" baloney they stick on books to sell their flavorless garbage recipes.
Note, I have not read the article.
In this case, "wondercrop" refers to how the enset plant provides a lot of food per area, which makes it appealing for areas with food shortages, and as a potential replacement for less efficient crops that require wider-scale deforestation to accommodate. Of course, commercial farming's going to replace all available space with cash crops, so those crops having better yields won't actually help, but it may help subsistence farmers.
I'm hoping it can @eishiya It reminded me our local breadfruits - very versatile, but of course, instead of being a root crop, it grows on tree, so not as easy to turn into a "wonder crop".
Got this from @sewcraftyme



I remember in Florida on US 1 by the ocean I stopped traffic to help a bunch of baby sea turtles to get across the road to get to the ocean. Some other people got out of their cars to help move the babies to the other side too when they figured out what I was doing…