Hey Chronos
If you guys have a suggestions please tell me. Thanks.
For those who don't want to look at the pics:
Patch Notes:
Added:
Friday the 13th Theme added.

Upcoming Games added.(Still same games every 2 weeks(with your choice))

Votes & Reviews added.(You can see now which game nice or bad for pay.)

% Claimed now shows the claimed count.(e.g: 50% Claimed 500/1000)

Giveaway Page added.(Legendary Streaks Friday the 13th: The Game added.(Need Entry Coupon)

Giveaways added.(Flip Coin & Join)(Searches added.)

Entry Coupon added.(You can collect from Legendary Streaks(monthly)Save entry coupon/ticket because sometimes entry cost will be need more.)
Changes:
Past Games can buy now with %300 more paying (e.g: Insurgency in early access for limited time 6000 Coins,(first come, first served) in Past Games 18000 Coins.

In Past Games, 2 terms added:
Out of Stack: Pay coins wait for recharges(business day like 2 to 5 day),when filled you can buy direct.)
On Stack: e.g 50 stack, you can buy directly for no waiting.
Pics for interested:
Shop: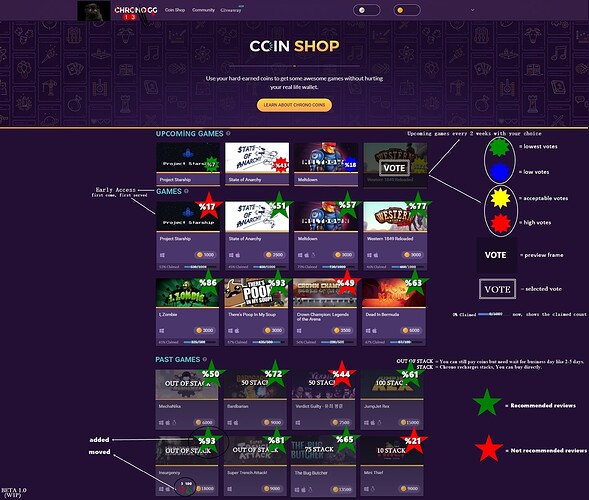 Giveaway: