cant log in to ubisoft, ubisoft forward and even uplay for 30 minutes. I call it great job.
Usual ubisoft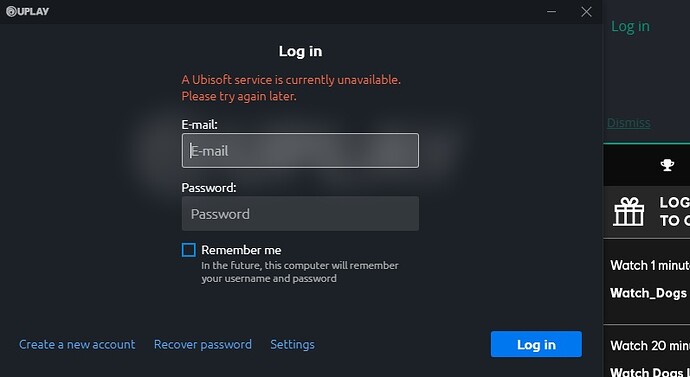 I just checked the Uplay Client and you can't even log into/use it either. You're always met with "A Ubisoft service is currently missing. Please try again later." whenever you open it (if you're set to auto-login; I imagine the error also applies to normally logging in too).
Edit: @mediiiiiiii beat me to it, haha.
tried log in with chrome, firefox several times without any success for a half hour really
tried linux Mint, Windows 10, Android.
maybe should try MS EDGE or VPN
EDIT: Tried MS EDGE, created new account, linked account with facebook. still unable to log in. Slovakia EU.
Conclusion: So Watch Dogs 2 is not meant for me. gg enjoy your stream and game, guys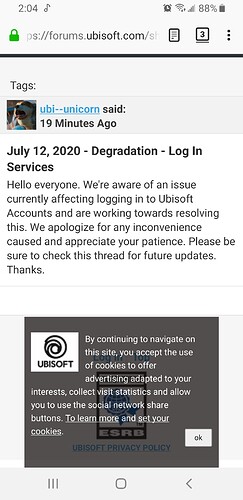 "Our login server crashed and no one was able to be logged in for Ubisoft Forward. That means we don't have to give out keys! Excellent!" - Ubisoft (not actual quote)
They better give us the game later if we can't login now.
some = everyone
Honestly, if I were one of their employees, I would have suggested making a separate giveaway of those things with a live announcement instead of making everyone have to watch the live in order to get them.
Well the whole point IS to make people watch their ads, since they didn't have the confidence that people would watch their event otherwise. Also at this point I believe it's already too late for the Ass creed axe giveaway which requires 40 minutes of watch time.
I just got home, so hope I'm still in time. I have to link something to something right?
I thought this stream lasts for hours. So you should still be fine

Lol did anyone actually login. And how I thought this would be easy

try to just log in to your ubisoft or uplay account, many of us failed
Yeah I have some python code running a click but its probs a waste of time lol
I think literally no one can log in right now.
https://drops-register.ubi.com/
You can link your twitch from here. Given you can log in to the system at this moment

3 mobile game ads in a row.
Brawlhalla
Some generic shitty looking one.
R6 Siege (which was 0 gameplay)
Those are probably all going to suck
I had it send me a password reset. After creating new password, I did finally login to Uplay app. I think I read we will not see the free Watch Dogs 2 added to our account until tomorrow.