Hope you guys don't mind, you are also free to post your stuff here.
Still got these for trade from last HB Choice, but will add a lot more from other bundles…looking for anything really

All of these are Steam keys by official resellers.
Figured sorting from a-z would be nice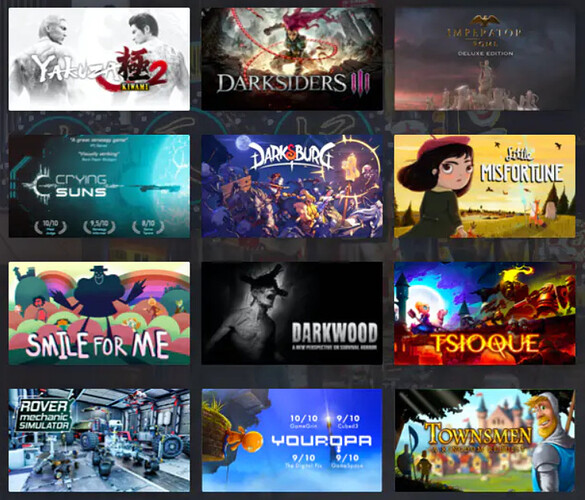 11-11 Memories Retold
AaaaaAAaaaAAAaaAAAAaAAAAA!!! for the Awesome
Ace Combat Assault Horizon - Enhanced Edition
Among the Sleep - Enhanced Edition
Armello
Asdivine Hearts
Beatbuddy: Tale of the Guardians
Beholder
Beware Planet Earth!
Bionic Commando: Rearmed
Bionic Dues
Breach & Clear
Breach & Clear: Deadline
Bridge Constructor Playground
Chasm
Choice Chamber
Containment: The Zombie Puzzler
Costume Quest
Crawl
Crimsonland
Crowntakers
Cubemen 2
Darkest Dungeon Soundtrack
Death Squared
Distrust
Divekick
Doodle God
Duck Game
Euro Truck Simulator 2
Euro Truck Simulator 2: Australia Paint
Evergarden
Evoland Legendary Edition
Fallen Enchantress: Legendary Heroes
Feather
Fluffy Horde
Forager
FOTONICA
Framed Collection
Frog Detective
Galactic Civilizations II: Ultimate Edition
Golf With Your Friends + Caddypack DLC + OST
Hacknet
Hacknet Labyrinths DLC
Lethal League Blaze
Leviathan Warships
Machinarium
Magnetic: Cage Closed Collector's Edition
Majesty 2
Majesty Gold HD
Masquerade: The Baubles of Doom
Men of War: Assault Squad GOTY
Monster Loves You!
Mr. Shifty
Neverending Nightmares
Osmos
PAC-MAN™ CHAMPIONSHIP EDITION 2
Paper Fire Rookie
Paperbark
Paradigm
Pinstripe
Primal Carnage: Extinction
Punch Club Deluxe
Quest of Dungeons
Quiplash
Regular Human Basketball
Resident Evil Revelations 2 - Episode 1
Rising Dusk
Road to Ballhalla
Satellite Reign
Secret of the Magic Crystals Complete
Shenmue I & II
Small World 2
Solar 2
Solar Flux
SpaceChem
SPACECOM
Star Trek
Stealth Bastard Deluxe Steam key
Stick Fight: The Game
Super House of Dead Ninjas: True Ninja
Super House of the Dead Ninjas
Super Mega Baseball: Extra Innings
Sword Legacy Omen
Talisman Prologue
Talisman: Digital Edition
Talisman: Digital Edition: Gambler Character Packs
Talisman: Digital Edition: Martyr Character Packs
Technobabylon
The Adventure Pals
The First Tree
The Gardens Between
The Incredible Adventures of Van Helsing The Complete Pack
The Inner World Soundtrack
The Journey Down 1 + 2 Bundle
The Occupation
The Ship - Complete Pack
The Stillness of the Wind
Think of the Children
TinyKeep
Titan Attacks!
Tower of Guns
Turmoil
Two Brothers
Unmechanical
Valhalla Hills
Vampire: The Masquerade - Coteries of New York
Void Destroyer
When Ski Lifts Go Wrong
Zenbound 2
Ziggurat
Gone:
Yakuza Kiwami
Assault Android Cactus+
Generation Zero®
The Shapeshifting Detective!