Today is day of sorrow and lamentation. My down right ancient keyboard found itself unable to continue fulfilling it's duty and suddenly started throwing erroneous inputs, R and N stopped working entirely while pressing E, T and D would result in those letters followed by an endless row of Ns. Extensive exploratory surgery has failed to find a cause for the issue and old age has been determined as the cause of death.
It's just a keyboard though, right?
No, it's a keyboard of a design that hasn't been manufactured for 20 years and I do not understand why. These split designs were amazing. I know that logitech wave exists, which is just slightly bent and uses a weird double column "home-end" key bank. I don't like it. I think microsoft has a similar one as well but none as good as this.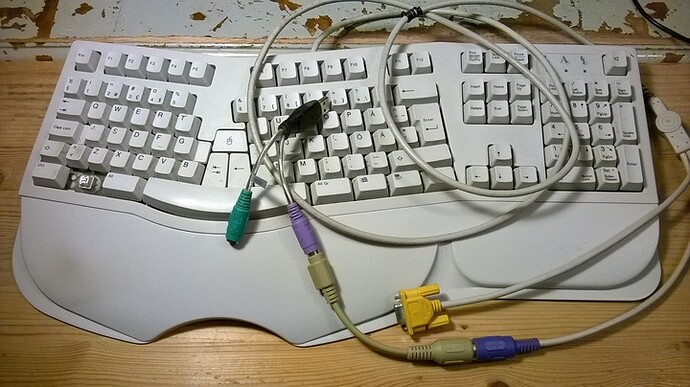 Yeah that's 3 adapters for it to be able to keep up with the changing times, but it worked and I've used it for hours on end every day for over 25 years. Show me anything you own which has managed that feat, if it's a keyboard let me know if it's still being made and where to buy it.
I'm going to be needing a new one currently on a tiny wireless backup board which is a huge pain to type on, maybe it's time I just "got over it" and broke my wrists in to work with a straight board.
Anyone have any recommendations?
I'm looking to get something of good quality of course but other than that I'm not sure I care too much as long as it comes in the full sized correct button setup, the one shown above, and if it absolutely has to have lighting and shit in it then it needs to be possible to be turned off. I don't know anything about modern mechanical keyboards and no idea how my old one compares, so let me know which switch manufacturer and hardness types you prefer and why.
Thank you