The amount of copies sold of a game do not match up.
3 Days ago i started collecting coins.
Today i have gotten 1013 coins so far. This is quite good and an easy way to get games if this is how it kept on going, after maybe a week or so i will be able to get one of the bigger games.
However ive noticed that you've sold out of hammer watch which was being sold at 1000 coins. This is entirely understandable as many people would try to get the game after 3 days like i did.
However the concerning thing is that i told my friend about the site and they said "Oh cool, do you think if i started now i could get hammerwatch? Its at 91% Sold!" Which surprised me because for me it said 100%.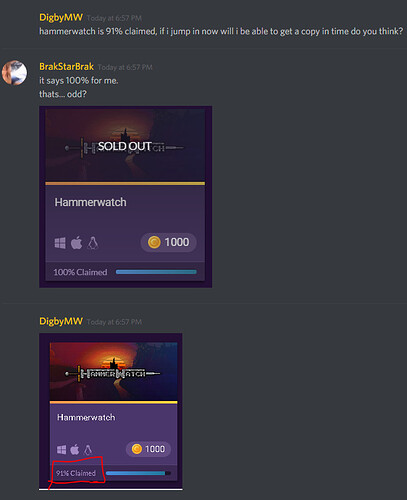 This was within minutes or even seconds of each other.
I then went in incognito mode and checked out the website without being logged in or without any cookies and could confirm that there was in fact 9% missing somewhere.
Do you have any answer as to why someone with enough coins gets another set of results?
I can understand this being some odd bug, but i would have thought that this would be fixed or noticed by now.