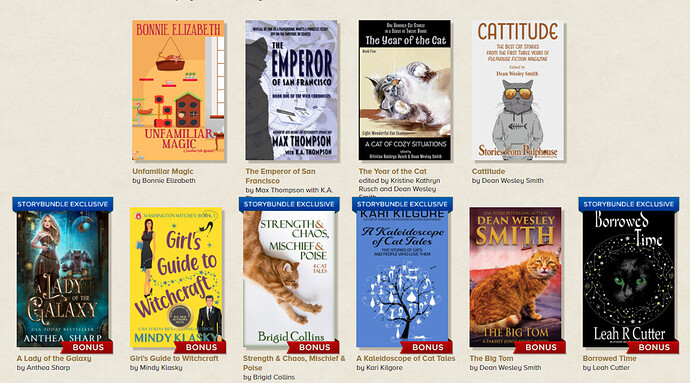 The 2021 Cattitude Bundle - Curated by Kristine Kathryn Rusch
For StoryBundle, you decide what price you want to pay. For $5 (or more, if you're feeling generous), you'll get the basic bundle of four books in any ebook format—WORLDWIDE.
Cattitude by Dean Wesley Smith
The Year of the Cat edited by Kristine Kathryn Rusch and Dean Wesley Smith
The Emperor of San Francisco by Max Thompson with K.A. Thompson
Unfamiliar Magic by Bonnie Elizabeth
If you pay at least the bonus price of just $15, you get all four of the regular books, plus six more books, including four StoryBundle exclusives! That's a total of 10 titles!
The Big Tom by Dean Wesley Smith
Girl's Guide to Witchcraft by Mindy Klasky
Borrowed Time by Leah Cutter (StoryBundle Exclusive)
A Kaleidoscope of Cat Tales by Kari Kilgore (StoryBundle Exclusive)
Strength & Chaos, Mischief & Poise by Brigid Collins (StoryBundle Exclusive)
A Lady of the Galaxy by Anthea Sharp (StoryBundle Exclusive)
This bundle is available only for a limited time via http://www.storybundle.com. It allows easy reading on computers, smartphones, and tablets as well as Kindle and other ereaders via file transfer, email, and other methods. You get multiple DRM-free formats (.epub, .mobi) for all books!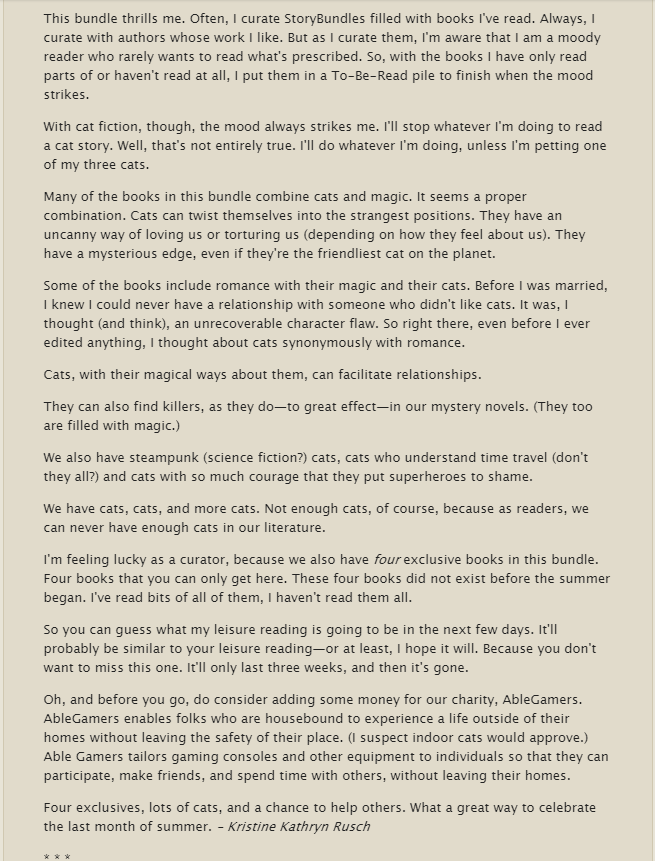 Heads up for @SeekerSupreme and @Danacscott