Lol, so why are they making us jump through hoops - taking screenshots, etc - if they are just gonna give it away?


See:
https://206.81.1.216/t/wishlist-omensight-on-steam-get-stories-path-of-destinies-free-other-rewards/10770/12
Beats me…But I got it!!!


… more important question,
why do i keep buying games, (when "game socialism" is obviously a real thing now), -as they just keep giving them away for free


PS. thx for the reminder @delenn13


pps, i paid like a dollar for it or something, so there is some completely indignatious "communist" whining for y'all


This is the base version and i believe the screenshot quest one is the collector's edition with soundtrack and artbook. i could be wrong.
copied from wishlist quest site: Each time we reach a new threshold, we unlock a special reward, starting with a free Steam Collector Bundle of Stories: The Path of Destinies at 10,000 wishes (includes art book and soundtrack)!
Yay thanks to all of the retards game addicts who took part in that wishlist thing, I got the game without having to send them anything




Found an explanation, guys: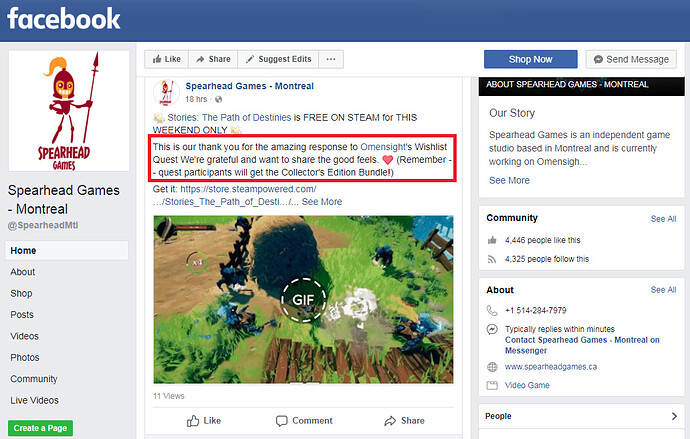 Stories: The Path of Destinies is FREE ON STEAM for THIS WEEKEND ONLY

This is our thank you for the amazing response to Omensight's Wishlist Quest We're grateful and want to share the good feels. <3 (Remember – quest participants will get the Collector's Edition Bundle!)
Just like your profile pic

Wow super original haven't heard that a million times. Maybe show your face and then talk kiddo
yo, it's just a joke man, it's not like he's insulting u or anything
Look at all the other stuff he said to other people. Trust me it's used as an insult