Got mine today:
Forgot to mention that there's 7 stickers to get daily. Yesterday was the first one.
Got golf. How do you capture it though? Mobile only.
@Danacscott I think that you need to tap and hold on the gif and open it in a new tab.
Then copy and paste the url here.
Hey, no walking the ball!
Aw. I got a jpeg instead of a gif
Good show @carvalho20ptc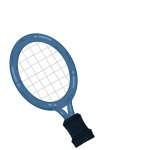 I find these stickers pretty funny. ^^