I have to stop myself…
I haven't been so tempted by a Steam storefront bundle in a while, but this is too tempting…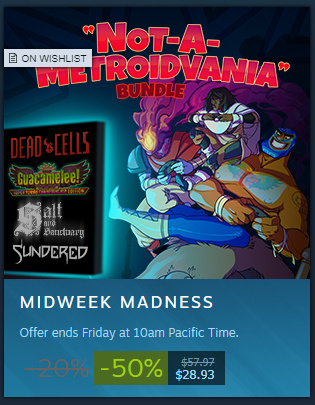 I already have Guacamelee.
I played a little bit of Dead Cells, thanks to @coralinecastell, but I still don't have the game.
Salt and Sanctuary looks so good, so does Sundered…
Anyone thinks otherwise? I also have to allocate funds for the Humble Daedalic bundle too…
What should I do?
(Of course that price in the screengrab reflects me paying for the 3 that I don't have)…
---
Sale ends Friday 10 AM PST, so that means I have about 44 hours to think about it still…