Well, I was waiting for Neverwinter go on sale that low so, Instabuy I guess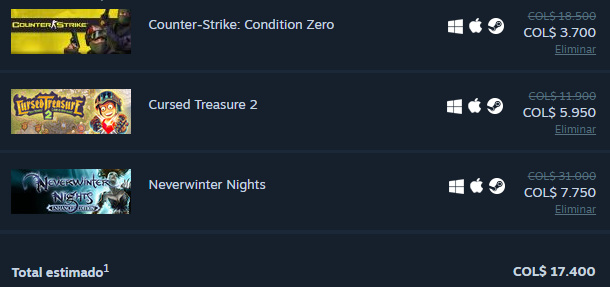 Some recommendations

A hard FPS/Tactical game were the enemies won't fall with a single shoot or grenade, really really recommended

Well you know… Wololo HD

By the emperor that's heresy

Seriously, the best buy you can do, Wasn't drew my attention at the moment, but now I have around 50 hours played, really recommended
Or if you like more the medieval style
It's finally here at last. My recommendations would be the following:

(borked link in preview)
Yeah; she's a sex goddess witch, all the more reason. Maybe, someday, I'll have her off my own Wishlist…

It's DOOM. PLAY DOOM. NOW.

Classic Match 3 puzzle game. Can't go wrong.

A game I was wanting to beta test but my POTATO PC was incapable of handling. I still recommend it as it is an Indie title.
Also, yeah; the majority of my Wishlist is stuff like:

Because I use RPG Maker software.
kinda funny that I'm bascially paying $6 just so i can play it on Steam instead of on Epic, where i got it for free

it's well known that i have nothing against Epic, but it does go to show how much i do prefer steam in the end
Suggestions in no particular order:
Darks Souls Remastered + Dark Souls II

(lol oooh saved $3 xD)

(I love this game! It is just there aren't a lot of people playing it. It's SO much fun!)

(Trust me…this game is amazing!)

(One of the best narratives I've played in a very long time)
Been many years since I played the original Age of Empires, this would not be the first time it's tempting me again. But I don't think I can put in the time and effort as I once did… Such a mental struggle.
Monkey Island Bundle: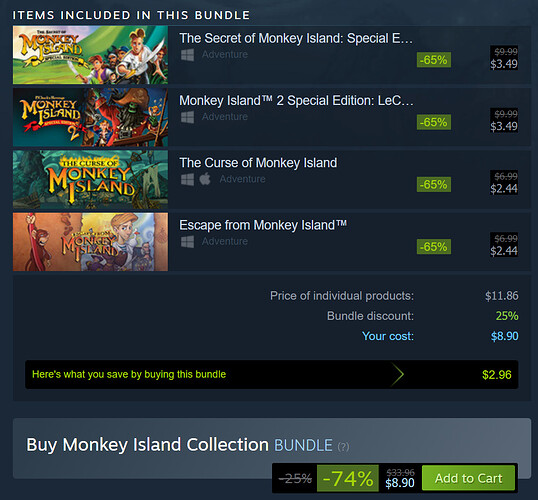 Not included, but also on sale (90% off):
@delenn13, I know you were keeping an eye on these before, the price is pretty good now.
Also just plopped down for Oblivion: GOTY Deluxe + Dragon Age: Origins Ultimate

I've always wanted to check out the Monkey games, but they are always on sale at the worst times. Hopefully it comes back around the Winter sale.
Yea, It's looks good. Thanks for remembering, @YQMaoski



pretty fun game, still in early access, pretty cheap, has online coop, now has daily challenges as well (wanted to try that out but haven't got the required level

)
Pretty d*mm good game, I really recommend it, also it's really cheap if you give it a try buy the bundle with the sequel
It's a shame that Fire Pro Wrestling World isn't part of this sale (along with a couple of other games), because I missed out on it during both the Steam Summer Sale and the Spike Chunsoft Anniversary sale recently.


Loved this game to bits and had a lot of fun playing it both solo and coop with my brother. It's perfect for longtime fans of the Sonic franchise and even newcomers too. I haven't gotten around to playing the Encore DLC yet, but I've heard a lot of good things about it.

This one's getting a sequel, Puyo Puyo Tetris 2, released on consoles in December (PC release date still TBA). It's a pretty solid game if you happen to like both Puyo Puyo and Tetris, just keep in mind that it's first and foremost a Puyo Puyo game (hence the cutesy character aesthetic, story mode, voice acting, etc.).

A really good racing game with a wide variety of characters and courses to choose from. Career Mode has a lot to offer when it comes to rewards and challenges (which is something that the Mario Kart series lacks; the only game to have a Challenge Mode was MKDS). If you like either of the Mario Kart or Crash Team Racing series, be sure to give this one a try.

Hot dad-tective main character and co. based on fairy tales. Can't recommend it and the source material, Fables, enough.

A digital/video game version of a choose-your-own-adventure book by the creator of Dinosaur Comics. If you liked reading Hamlet, but wish it had random/absurd events, voiced characters (some who sound silly/terrible on purpose), and a narrator, then you'll probably like this. You need to complete each path to unlock its respective gallery illustration; also includes achievements.
Divinity: Original Sin II is offered for a nice price
However I'm not sure whether I should get it. Played old Divinity games years before Steam, but never played the first Divinity: Original Sin, and don't really have any interest in it. Maybe someone here knows, is it ok to skip the first part and just go for the second? Or is it like KOTOR 1 and 2 where you can play the 2nd part without the 1st just alright, but you'll keep bumping upon stuff from the previous game that'll make you want to go chronologically?
As for personal recs:
Dark Dames in Adventure Games is a great story bundle, the only downside is Bear with me, but some people like it; everything else - Kathy Rain, Fran Bow, The Cat Lady, Shardlight - is nothing short of excellent and should be played.
Starts slow, but then you get to build a settlement, and it becomes more like Suikoden. A surprisingly addictive JRPG.
Ghibli Pokemon on PC, and with a better main story, too.
A nice pixel western. Everything you want from the genre you'll probably find in this simple and charming game.
A really nicely done gay visual novel. Cheaper on Epic than on Steam, so I got it there, but Steam version has achievements and may have cards someday.
I've played Original Sin 1 outside steam years ago and it was just amazing and i just bought Original Sin 2 during this sale and i can say that it is even better! Incredibly deep and interesting.
On the contrary, I didn't like Divinity OS 1. It's just walls of text of a fairly banal fantasy world. In general, people get obsessed over open world RPGs, and I don't. But I don't think you need to play 1 to play 2. You're in the clear there
So basically, it's ok to only play the 2nd

That's a relief, because both games look like 100+ hour worlds, and unfortunately time is a problem now, and I'm reeeeally interested in the 2nd game. If playing both was required story-wise, I'd only be able to get to the 2nd game in maybe 6 months, and that's the most optimistic scenario.
Thanks for the recs!
Original Sin II is amazing. I don't think you would be disappointed in it at all.
Some more recs till Autumn Sale is on
There is something special about Gloom that makes you want to return and explore its melancholic secrets. Still moody about how it just dropped my saves though.
For some reason this 3D crafting-based Stardew Valley feels very Corean, even though it's not

Nice deal, cute world to relax and have fun.

It is a clicker visual novel about a garden where you grow human organs, and if I remember correctly, you also are a doll.

This here is the nicest PC Tales game yet, and at a ridiculously low price, too.