I'm not really an official Trekkie except when it comes to the Science Doctor, Spock. Its actually one of my nicknames because I've been questioning things all my life telling people since I was 4 or 5, "That is not logical" and having people become extremely irritated with me.
So while on the new, boring Tumblr a few days ago,I found this link
and the image below which I thought might interest some of you - if not, well chalk it up to me being a severe introvert and out of touch with what's going on with the 'real world' and ignore it please.
On this day in 1967, the Star Trek TOS episode "Tomorrow is Yesterday" was broadcast.
Favorite lines:
Captain Kirk : We're from your future. A time warp placed us here. It was an accident.
Captain John Christopher : You seem to have a lot of them.
Few and rare are those who can successfully sass The Kirk.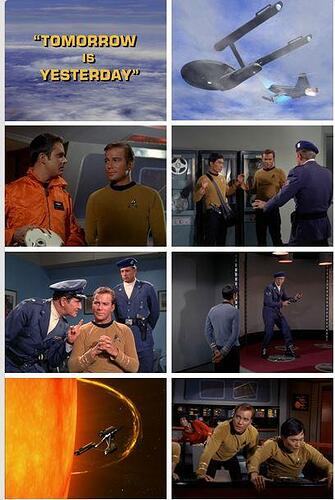 I do like Science Fiction-Fantasy for reading purposes and this from Asimov, "Trekkies are intelligent, interested, involved people with whom it is a pleasure to be, in any numbers.
Ila in Maine