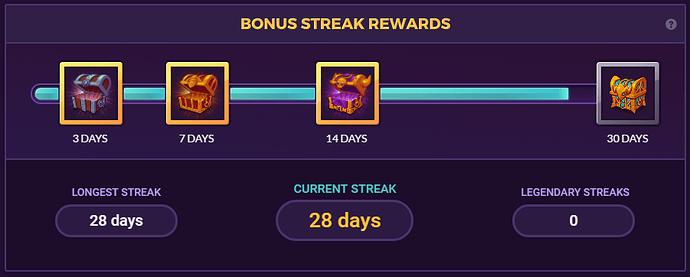 Thanks for putting together such a stellar rewards system, guys. I'll probably buy Thursday's Daily Deal to celebrate.
I'm probably going to break my streak once I hit 29 days. And then cry about it for hours on end. It'll be fun.
You've got this, I believe in you! Do it for the reward receptors in your brain! Do it for the Oscar! Do it for the African kids! I don't care who you do it for, just do it! You can get the monies!
Dude I wish you the best hahahaha!
I currently have 9 more days before I hit the 30 day streak XD
/Holds Breath…29 DAYS!
P.S. Hope my Profile pic shows up.
You guys are going to like what you'll get. Don't break the streak. Do NOT break the streak. Chrono.gg WILL reward your loyalty. With that said, I shall likely forget the day after tomorrow and break my streak.
I just hit 30 days and I really liked what I got. No spoilers, but it was 100% worth it.
Thank you very much. On to my next streak. I really like this system. It would be nice to add points for actually buying a few of your offers…since I have bought a few.

Very wise words. Clearly carefully chosen words before posting.
Partially inspired by someone else's words. Not naming any names, or amalgamations of letters and numbers.
sheeeit, I hit 7 days and then forget for whatever reason and back to 0

… one day I shall achieve this and when I do, bricks will be shat.
edit: wow just revived an 11-month-old thread… woops
Welcome to the forums, necromancer.