@DanosaurJr I get what he's saying, though. It's kind of like when people complain about excessive lens flare/bloom; it's one of the brightest colours in the palette, so having it EVERYWHERE can be pretty bad.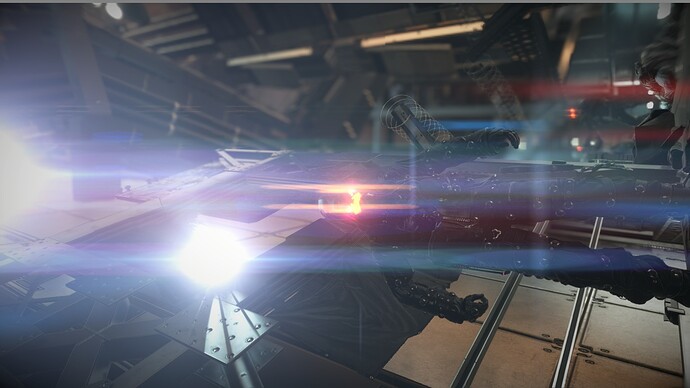 Indeed. I actually agree with most of what @Fraggles said.
I don't think a game developers choice of colour palette falls into the realm of 'bad graphics'. To me, things like pop-in, or wonky lod switching is more jarring than a poor choice of colour. With that said, I still think that poor control options are the biggest barrier to accessing a game. It doesn't matter if the graphics or game mechanics are bad; if I can't navigate my way through the game, those issues will never come up because I've already set it aside.
*edit: had to take out some of the eight bajillion times i said poor.
@marples Anything can be bad if done badly enough, ESPECIALLY if you just finished spoiling the user with tons of great content. It's why a backtracking quest in the middle of Darksiders is more jarring than one in Skyrim, or why people freak out over a texture seam in AAA games then give some Unity game a free pass. It's not so much that it's a thing, as much as it happened right after getting your expectations up.
All of them count as bad visual choices. Pop-In and LoD are more on the technical side of things, but in the end they do affect aesthetics; glitches with graphics are in the same field of "bad" as visuals that were jarring and ugly to begin with.
I was just searching to ascertain what the general feeling about Undertale's graphics was…and in general it seems that a lot of people agree with exactly what you've expressed. However, there's also an interesting steam thread about this topic too. One point that was raised seems pertinent -
I don't think they were going for any particular style, they just made a character and made their sprite any way they could. The problem isn't that Undertale has bad graphics, it's that the style of the graphics isn't consistent. It can't decide whether it should be 8, 16, or 32 bit. Though I also think this is done on purpose. The graphics are jusr another way the game subverts your expectations, the best example of this is the design of Photoshop Flowey.
Rather irrelevant to the point I was making but I mostly agree, I don't think that's the full extent of the problem but it is certainly an issue that I have argued with other people before. I however do not think it's done on purpose, I think the writer is just making excuses for Toby at this point because it's dangerous to criticise this game. I think the mess of an aesthetic design is the result of a game that's been too long in the making by someone who was pretty shit at it at first and got better. I don't want to spoil anything myself here though so I'm not going to embark on a discussion about flowey.
Framerate is the biggest issue to me. If your game has more movement than minesweeper it should be at 60. I can forgive it in some games but I basically need my platformers in 60+ and fps stuff in 90+.
As for Undertale my one big gripe with it is the ugly asymmetrical player character. The rest of the game looks fine imo with some neat sprite work but I can't get over how they seemingly intentionally made the sprite you're going to see the most absolute crap.
You are obviously not a console gamer. What sort of specs does your pc have?
I play as much console games as I do pc. I am however not a fan of any current consoles(ps4/xbone/switch), they have no appeal to me.
My PCs are absolute garbage but I rather tank the visuals completely for frames.
I hear you, FPS over graphics every day of the week. Lately I was looking for a PC upgrade, a better GPU; right now a 1080ti costs around € 2,700.00 ($ 2,900.00)… this is madness

Yeah, I know… -.-
I guess I'll wait until this bubble bursts.
where the heck are you seeing those prices as retail "sold"??
1000-1500 seem to be the range for retail listings - in stock
and the 2k homemade listings i highly doubt sell
-even the article cites 1080ti as least affected due to it's enormous power consumption
I've found that price on Amazon for an Asus Strix that is now available for around 1,800.00, plus shipping. Problem is, most cards are out of stock in a matter of minutes and prices are constantly changing. Look at this 1080 from Zotac…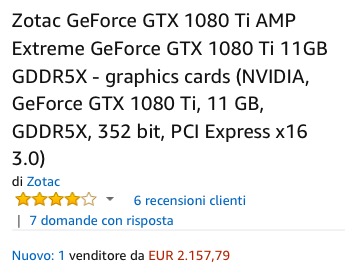 And this PNY is even better…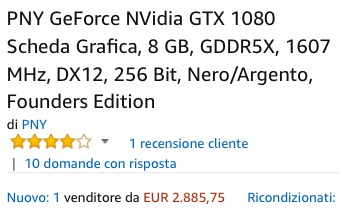 Unfortunately, Amazon doesn't keep in stock any GPU and these offerings are from third parties. This is the situation at hand, let's wait and see if it will get better.
I suspect that PNY isn't a founder's edition, but a scam. That was just to illustrate the state of the market at the moment.
Shopping in other regions isn't convenient, duties and handling prices are crazy expensive, it's something I've already tested. The most convenient thing would be having back the 2016 market with slightly overpriced cards always in stock.
Now is so far from the time to buy a new GPU it's not even vaguely amusing. The crypto currency boom and the inflated price of memory means that you'll be paying well in excess of what 2 year old tech should cost…these GPU's are end of life now. I'd suggest waiting for GDC in early March and seeing if the next gen of cards get announced.
volta volta volta volta! hue hue hue!
-can you hear the crowd chant?, -and the miners mentalgasms
buy in now: Titan V only 3k$, what a steal
jks aside, i'm slightly curious to see what gets released when, and how if any it's gonna affect the "mining market" and our future gpu price and availability
can't they just get on with it an make all currency hashes bitcoin lvls hard so regular gpus are no longer an option again

*grouch grouch
obviously the worst thing that could ever be wrong about a game and make it nigh on unplayable is clearly:
when the framerate is stuck at 720p