the game Peggle is currently free, yours to keep forever, -over on Origin
https://www.origin.com/fra/en-us/store/free-games/on-the-house
have fun… ?



Weird that peggle is free again, that was I think the second game I got for free on Origin.
it's EA, https://en.wikipedia.org/wiki/List_of_Origin's_On_the_House_games, not surprising there is quite a bit of repeats "in their house"… imo

Alright so I've got 3 Peggle now. I really don't understand origin but I guess you can't have enough Peggles.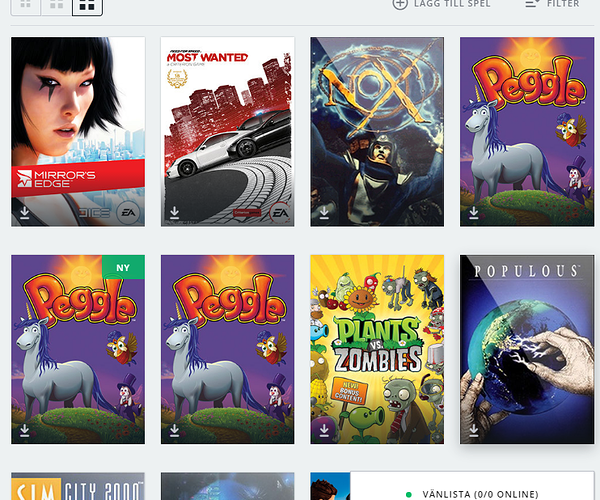 man this is gold, Steam should allow this, too, we'd have accounts called crap with 200 copies of there's poop in my soup and omg I jumped on the stupid shit bandwagon ugh
That's really odd. Do the different copies interact with each other if you first play one and then another one later?
Or are they just three 'windows' that opens the same version?
A google search told me that origin does indeed just let you have duplicates. So if you keep getting them from different bundles and stuff you can have infinite peggles.
I gave it a try just to see. They all lead to the same game, same saves and all that.
That sounds like a design flaw that they are not too concerned to fix… Lazy bums!
Why? The customer now has the Choice to support their favorite games by purchasing them multiple times, as well as show off their devotion to the 'greatest games of all time' available on the Origin store by purchasing them 2 even 3 times… After-all one copy of Battlefield 1 Legendary Super Delux Seriously Best War to End All Wars Edition says 'I like the series', 5 copies says 'I am WAAAAAAY to passionate about the series'.
A passing cow taught me how to act in these situations: SARCASM SARCASM SARCASM SARCASM.
Is this worthwhile to sign up for a Origin account?
I used to think so, but I don't have origin downloaded, never use origin so I would say… no.
Eh? Apparently my email is already registered to Origin… and I didn't know it? Hmm… I reset the password anyway… My guess is maybe my PS4 account linked EA for Mirror's Edge? Who knows… I don't have too many EA games…
EDIT:
At least I didn't have to install Origin client to claim the game… I just claimed it since I didn't already have the game…
I am not a hoarder
I really am not…
Am hoping Bejeweled 3 gets to be free on the house again as I need it as well.
I already had Peggle and Bejeweled 3 on Origin before, on an older account whose password I've lost years ago.
I kind of want to play the classic bejeweled games now… Going to probably get it on a Steam sale or something…