All GAMIVO customers get one random game for free:
https://www.gamivo.com/product/massive-ultimate-gamivo-clarence
List of games:


How can it have Windows 10 version of Minecraft and be a Steam key? I bought it and it says Steam, so…really strange.
Oh well I guess, free is free.
I got super mega neo pug.
I got a duplicate, but seeing the offerings, I'm not too broken up about it
I got Terra Incognita. lol I'm not surprised at all.
how is this place different than g2a o.0 ??
lol it's not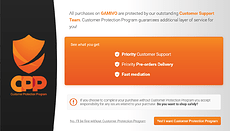 comn people… don't support these kinds of places

Meh mostly looks like lots of that pug game
And what is that strange feminazi game… o~o
It was out of stock when I clicked earlier today. Likely didn't last that long? Thanks for the share though.