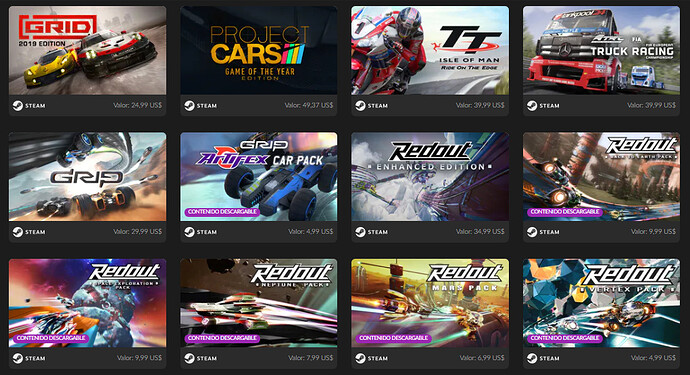 I'm not too much into racing games but I guest @YQMaoski and @Fraggles would find it useful
Also, Purple color means DLC
Bundle
tengo menos de conducción y soy malo en esos juegos en especial en las curvas XD
ajajjajaj, pienso lo mismo pero hay algunos divertidos como Horizon Chase turbo, es buen juego o este otro que salio no hace mucho Inertial Drift
Thanks, I am not sure if I will get this, only game I would want is that TT Isle of Man from this bundle. I think it's not been discounted this low by itself anyway, so I might end up getting it. Going to take some time to think about it though, since the winter sale is coming up soon, might just wait for the sale and see what I might see enticing.
Thanks @Donluis524



I am in the same boat as @YQMaoski. I have all but 2 games and 2 DLCs…Not sure if it's worth it .
Well, if someone gets the bundle but is not interested in TT Isle of Man let me know please, I am pretty sure I have other spare keys to trade you for it.
If anyone got this and already had Redout and the DLC I'd take that as I didn't have a fair chance at it back when it was a coin shop item.