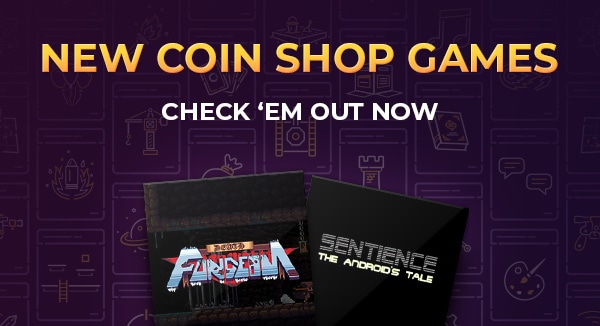 TALKIN' TURKEY

Everyone wants to know what the future holds. Will there FINALLY be flying cars and hoverboards? Will we have sweet genetic modifications? Will our robot overlords maintain our holidays and celebrate AI Thanksgiving and Black Friday? These are the important questions of our time. Maybe you'll find the answers in one of these two new coin shop games…

Sentience: The Android's Tale
You can remember nothing before this moment. Your existence begins with a keystroke followed by the flick of a switch. Electrical power streams into your neural network, and you are alive.
Death Fungeon
A puzzle platform game, with both stealth and parkour elements. Use your wits, cunning and agility to escape this deadly prison. Take the stealthy approach, progressing slowly, hiding and staying out of sight. Or utilise your athleticism to wall jump, ledge grab and speed run your way to freedom.

Androids like sweet deals too.