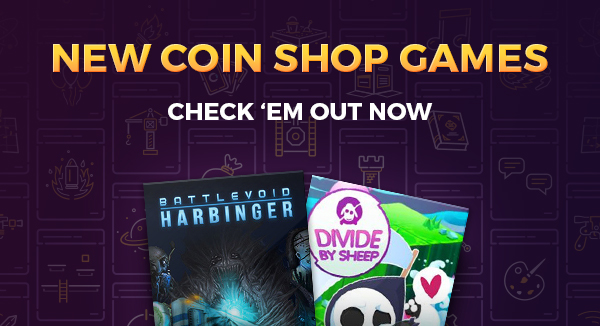 WHY MATH

Of all the freakin' things… Math. Why? Why that damned skill? I was just looking forward to enjoying a relaxing weekend with two brand new coin shop games. Maybe an adorable platformer, or a point-and-click adventure with a compelling story, maybe even a hack-and-slack RPG with retro graphics, but no. Instead, it's a game with "division" in the name and another about hard sci-fi space strategy, which I can only assume involves a bunch of numbers.

You know, I really tried at math. I was actually good at it once, then I had a teacher in the 6th grade who liked to put dunce caps on kids and make them sit in the corner. Algebra, calculus, geometry, all ruined at that point. But hey, maybe this is another chance. Maybe these games aren't so daunting after all. Actually, ignore everything I just said, math is probably great, and so are these games. I'm going to learn this weekend! You should too.

Battlevoid: Harbinger
Battlevoid: Harbinger is a hard sci-fi space exploration game blending roguelike, turn-based, star map strategy, and real-time space battles. You are a young commander venturing out into enemy territories, to unknown galaxies, never knowing what you will face as you jump out from hyperspace.

Divide By Sheep
Divide By Sheep is a mind-bending math puzzler about friendship and slicing sheep in half with lasers. The Grim Reaper flooded the world, and it's up to you to save critters stranded on islands. Insane math skills required.

1 + 1 = grab these games.