Hi, just write funniest character here. Optionally you can do a picture if you want.

You can't start a topic like this without posting a character yourself! Regardless, how about I throw a curveball that no-one else will have any clue about -
Jack Russell (Radiata Stories)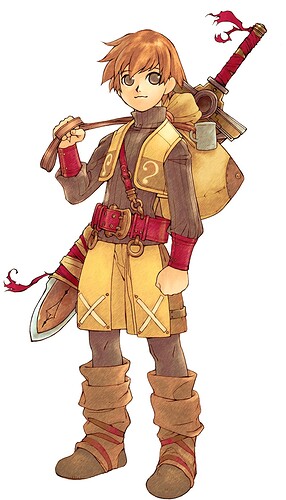 Because he's 5 parts awesome and 5 parts enthusiastic idiot.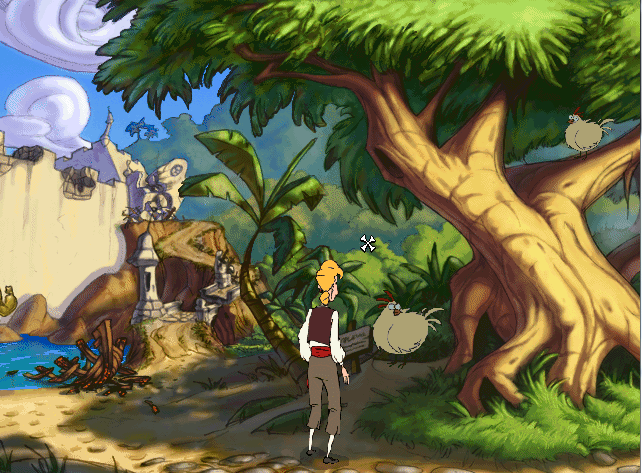 "The chicken or Guybrush," you ask. Both.
I just knew that you'd go with Guybrush!
And chicken.
Also, you know me too well haha

Btw I have no idea what Radiata Stories is, but I'll look it up.

Kitagawa Yusuke, from persona 5. He's never intending to be funny but everything that comes out of that awkward moron's mouth is pure gold.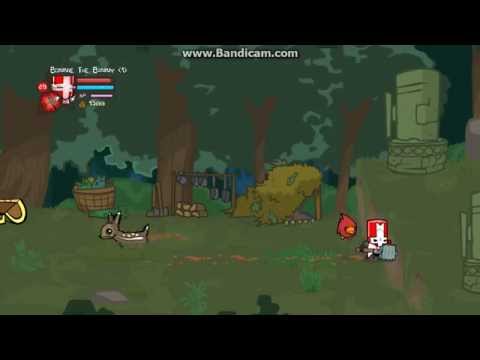 in memoriam @dusty
Hm… well, I give up.
Ruling out the following because there's no competition:
Every character from a Tim Schafer game, including but not limited to
Razputin, Coach Oleander, practically every psycho (Psychonauts)
Manny Calavera, Domino Hurley, Salvador Limones, Glöttis (Grim Fandango)
Shay and Vella, Shay's knitted friends (Broken Age)
Every incarnation of Jack Black (especially F'ther)
---
With that giant asterisk out of the way, I'd give this to a few different characters.
Rufus, Goal, and Cletus (Deponia)
While I generally think the entire cast in Deponia is great, the special callout definitely goes to Rufus, Goal, and Cletus. All three of these people are… well, awful. Rufus is a self-absorbed sociopath and a kleptomaniac to an extent that would upset Manny Calavera, Goal is a spoiled brat, and Cletus is just a mirror of Rufus that was lucky enough to live in a floating paradise instead of on a crappy planet of junk. All of the cast has some kind of redeeming quality underlying their nasty surface behavior, and they lend the game absolute unpredictability in where the plot will go next.
Big Bo (Binary Domain)
…oh, Japan. Big Bo is the perfect counterpart to Dan for a BIG WESTERN SHOOTER GAME by the Yakuza developers. You should feel genuine guilt for every time you swap him out of your party. French Robo-bro Cain is a close second.
For brevity, I'll hurry this up:
[Most of] the Jade Empire party (not you, Silver Fox)
Fernando (Paladins)
Comment-a-tron (Clone Drone in the Danger Zone)
Mordin Solus, Wrex, and Grunt (Mass Effect Trilogy)
Rex Power Colt (FC3 BD), Colt twins (Trials of the Blood Dragon)
…and I'm sure there are more I forgot.
Funniest Game Character?

see:


also
Borderlands 2: Tiny Tina, Krieg, and Claptrap (ofc)


The Stanley Parable: The Narrator
Portal: GLaDOS
GTA V: Trevor
Magicka: Vlad
Team Fortress 2: The Heavy? or the Medic? maybe the pyro

or or perhaps that weird australian or the scottish dude? i don't know

. pick one


That guy or thing from that place in that game there i'm thinking of
Dark Souls: (ThePruld's)Solaire
StarCraft II: Infestor
World of Warcraft: Pet Rock
and probably a million more i can't remember

---
Metal Gear Solid: Colonel Cambell ("snaaaaaaake", com'n isn't that just the funniest thing of the century

)
Silent Hill 2: the shiba
Sonic (nato) Forces: Ugandan Knuckles
Bad Rats: The Developer
(oh, these last 4 were joke entries btw, just in case it wasn't clear)

Witcher 3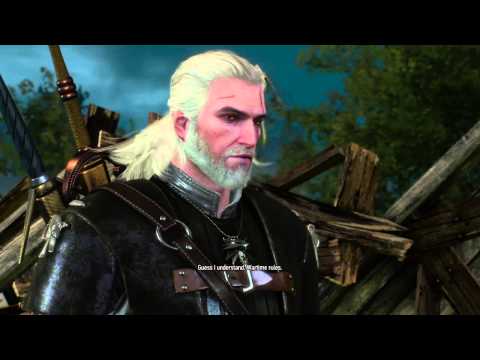 Also when you need to make a ghost happy in the witcher 3, that one has great moments as well.