Got it, thank you very much.

Part 1 which seems like it could be worth playing first is also free.

That was posted like 10 hours ago on reddit and people haven't yet established if it's yours to keep after it goes pay 2 play or not. The Dev claims it will be yours to keep if you install it and launch it…
Source >
when u grab it it says that it was added to your library, so should be yours to keep cuz when it isn't it usually doesnt do that.
funny thing is for some reason the first one doesnt appear in my games though i also seem to own it
Yeah me too, also found that strange.
actually, i think i just understood why, it must be cuz the first one is a half-life 2 mod
It's stand alone I bet… doesn't say you need half life 2 to play it.
I don't know but store page lists it as a mod and it's not among my owned games…
If the first one was always F2P won't add to your library. The only way such games add to your library is when you add "DLC" to them or when you install them but if you do the latter they get removed the moment you uninstall and this doesn't have any DLCs of course.
About for the second one … I can't be bothered to install it so we will see in few days if it gets removed from my library

but i never installed the first one to begin with, and it still says it's in my library on store page, it just doesn't appear in my owned games when i go to my games from my profile
edit: u must be right, just opened steam and looked in library and it's not there, lol
It's the same for me … but I don't remember how f2p games behave in the store page when you remove them. They for sure disappear from your library. There's no add to my licenses about the first one at all.
Edit: just checked… I never bought stuff for Paladins as f2p game (it's no longer in my library after I uninstalled it) but it's in my licenses.
So the first one is f2p and probably to add its license you need to install it (I guess no need to bother cuz won't add +1) because this shows on my Paladins Page >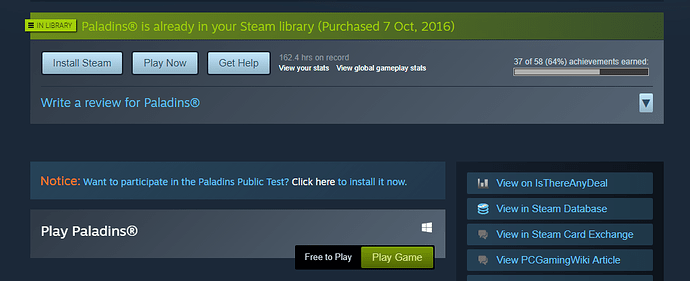 and now steam library search >


Steam really need to sort out a way to keep free games listed in one's library. I wanted to play this when I had played the first but don't want to install it yet, given that they are named act 1 and 2, this shouldn't be a problem but I feel it would be nice to have it listed in my library.