Can grab this game for free if you sign up at the website
https://beta.bandainamcoent.eu/en/cb/get-even-for-free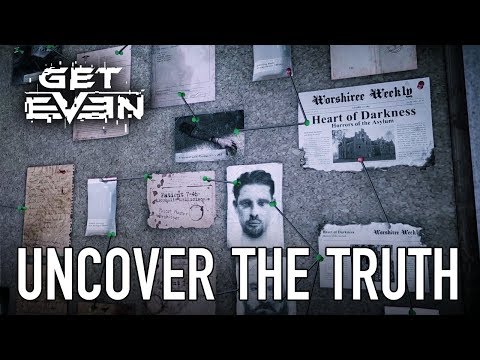 Need to be region EU. I used a VPN, no email yet, though may take time. Also the keys are first-come-first-serve 100,000 keys. Not a raffle. so you'd want to hurry.
From FGF:
The Giveaway is open to private individuals residing in the following countries (altogether the

"Territory"): Australia, Bangladesh, Cook Islands, India, New Zealand, The Norfolk Island, Pakistan,

Angola, Benin, Burkina Faso, Bhutan, Burundi, Cameroon, Cape Verde, The Democratic Republic

of the Congo, Central African Republic, Congo, Chad, Cote d'Ivoire, Comoros, Djibouti, Equatorial

Guinea, Ethiopia, Fiji, Micronesia, The Federated States of Gabon, Gambia, Ghana, Greenland,

Guam, Guinea, Guinea-Bissau, Kenya, Liberia, Sri Lanka, Madagascar, Malawi, Maldives, Mali,

Marshall Islands, Mauritania, Mozambique, The Northern Mariana Islands, Namibia, Niger, Nepal,

Nigeria, Palau, Rwanda, Samoa, Sao Tome and Principe, Seychelles, Senegal, Saint Helena, Sierra

Leone, Somalia, The United Republic of Tanzania, Togo, Uganda, Vanuatu, Western Sahara, Zambia,

Zimbabwe, France, Algeria, Belgium, Luxembourg, The Netherlands, French Guiana, French

Polynesia, Guadeloupe, Morocco, Martinique, Mauritius, Mayotte, Monaco, Saint Martin (French

part), New Caledonia, The Reunion Island, Sint Maarten (Dutch part), Tunisia, Wallis and Futuna,

Italy, San Marino, Holy See (Vatican City State), Germany, Austria, Azerbaijan, Belarus, Switzerland,

The Czech Republic, Hungary, Kazakhstan, Poland, The Russian Federation, Slovakia, Ukraine,

Georgia, Kyrgyzstan, Liechtenstein, The Republic of Moldova, Tajikistan, Turkmenistan, Uzbekistan,

The United Arab Emirates, Afghanistan, Albania, Armenia, Bosnia and Herzegovina, Bahrain,

Bulgaria, Croatia, Cyprus, Egypt, Greece, Israel, Malta, Qatar, Romania, Saudi Arabia, Slovenia,

Turkey, Iraq, Jordan, Kuwait, Lebanon, Libyan Arab Jamahiriya, The Former Yugoslav Republic of

Macedonia, Montenegro, Oman, Occupied Palestinian Territory, Serbia, The Syrian Arab Republic,

Yemen, Andorra, Spain, Portugal, Aland Islands, Denmark, Norway, Finland, Sweden, Estonia,

Iceland, Latvia, Lithuania, The United Kingdom, Botswana, British Indian Ocean Territory, The British

Virgin Islands, The Republic of Ireland, South Africa, Faroe Islands, Guernsey, Gibraltar, The Isle of

Man, Jersey, Lesotho, South Georgia and the South Sandwich Islands, and Swaziland.
Do they provide a steam key?
So it would be region locked? I'm in North America, if I sign up to get a key with a EU proxy, it'd be locked to that region, wouldn't it?
Thanks @PeteMcc



Probably everyone knows about this by now but check your e-mail if you got the code. The message is titled "Here's your free Get Even code!"