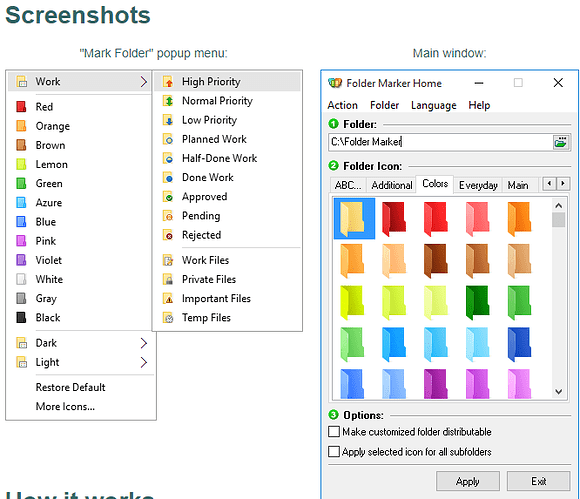 Finally, Since I got the new laptop, I have been waiting for this to be a giveaway. And it's a lifetime one too. So make sure you save the exe and codes. I had purple for all my books and blue for movies etc…
From Cnet:
" Note that while you're getting a lifetime license, you're not eligible for upgrades. And there's no technical support beyond what's available in the online knowledge base and help pages.
Folder Marker is one of those tools that, once you start using it, you'll wonder how you got along without it. When you run the program, you'll see that making changes is a simple three-step process: choose a folder, choose the icon for that folder, then select any options you might want.
There's a wide assortment of icons available, including letters, colors, and symbols (such as stars and arrows). You can also apply a custom icon. Many of these choices are accessible via context menus as well: right click any folder and then mouse over Mark Folder.
This version of the software also includes a tag feature, meaning you can assign text tags to folders in addition to colors. Read more about the benefits of folder tags.
If you rely heavily on Windows folders for organizing your documents, this is one utility I think you'll find invaluable. Snag it while it's free and you've got nothing to lose by taking it for a spin."