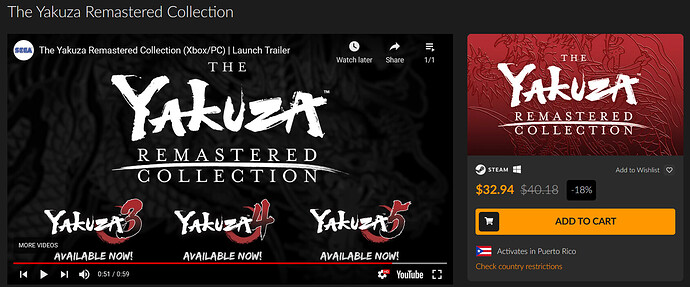 https://www.fanatical.com/en/game/the-yakuza-remastered-collection
Experience three kick-ass, classic action-adventure titles from SEGA with The Yakuza Remastered Collection now on Steam PC.

Celebrate Kazuma Kiryu's saga with the beautifully remastered Yakuza 3, 4, and 5. With restored content and updated localization in 1080p and 60fps, experiencing the Kamurocho nightlife never looked this good.
Don't let the lower percentage fool you, because the base price is lower than buying it directly on Steam (ie. $59.97 with -33% off, making it $40.17). I have no idea why that's the case, but I'm not complaining.
You can buy it for 5 cents cheaper ($32.89) over at GameBillet, provided that it's available for your region.