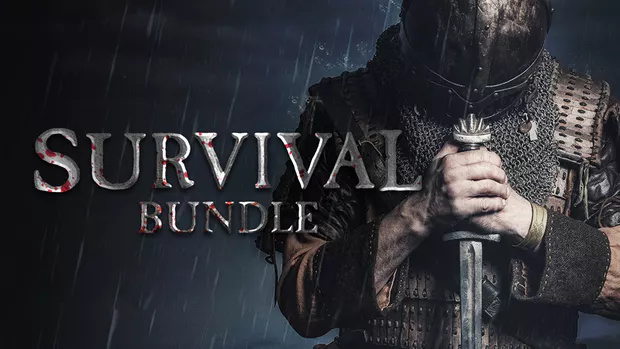 https://www.fanatical.com/en/bundle/survival-bundle
About this Bundle
The world is crumbling around you, the fate of humanity hangs in the balance - it's time to take up arms, gather resources and, above all, survive!
Bringing together explosive co-op shooters and post-apocalyptic adventures, Fanatical's exclusive Survival Bundle will test even the strongest, bravest PC gamers with a collection of 10 Steam games for just $3.99.
Flee zombie-infested cities and attempt to survive alone in the atmospheric horror Deadlight; travel as a group in search of a safe haven in roguelike strategy March of the Living; or follow the wasteland journey of two lonely travelers in after the global epidemic in survival horror 35MM.
Increase your chances of survival by working with gamers in online multiplayer across four titles included in this action-packed bundle. Take on vicious creatures on a mysterious wintry island in open-world Savage Lands; see the work of bestselling author Giles Kristian come to life in Nordic open-world Valnir Rok Survival RPG; and build a base to withstand an onslaught of savages and mutants in tower defense FPS Band of Defenders.
Fans of the hit 1980s movie 'The Thing' can experience an inspired tale of John Carpenter's narrative in adventure strategy Distrust - which sees a group of survivors attacked by a mysterious alien creature at their arctic base - with fatigue, hallucinations and anomalies playing a huge part in the player's experience and how they react in certain scenarios!
See a unique combination of 'Minecraft meets DOOM' in the 'Very Positive' Steam rated action FPS This Strange Realm Of Mine; go all guns blazing and endure a parody game show like no other in rogue-like FPS Killing Room; and test your ability to survive and thrive in a confined shuttle floating through outer space in board game strategy Tharsis.
Saving a total 97% on this 10-key roster, it's time to put your skills to the test in an engaging mixture of survival-based Steam PC games.