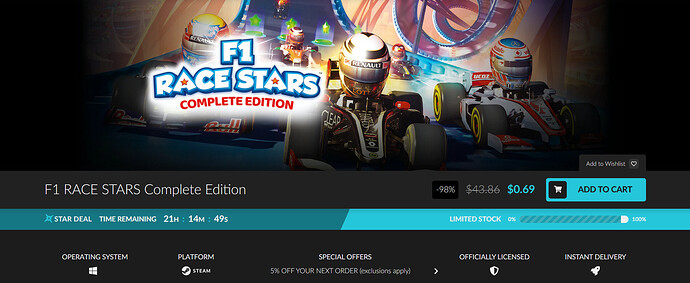 https://www.fanatical.com/en/game/f-1-race-stars-complete-edition
If you thought $1 was too much for you during its last sale, you can save yourself $0.31 now.

I was in the middle of posting this when I saw your post.
Thanks @Luxen



Me too. It was already a great deal when they did the $1 deal. I expect everyone owns it from then, but if not, they should grab it.


Exactly.
Kinda "Should you play it, or why?" while there is Hotshot Racing or so (which is dope)
Precisely.
I mean the discount is fantastic, especially when you consider it's the complete package - which is not even available on Steam anymore…
…but the real question is: why would I play any other racing game, when I have Garfield Kart?
Are you @KingJamezJr in disguise?


My name is Legion, for we are many.
If Garfield Kart had a Train expansion, would they call it Garfield Trak (like Amtrak) (Trak is Kart reversed).

I prefer my games to exit out of menus with the B button or esc key rather than alt-f4.
Yes I literally got stuck in a menu and had to alt f4 out of it